Last Blade Standing Fights Cancer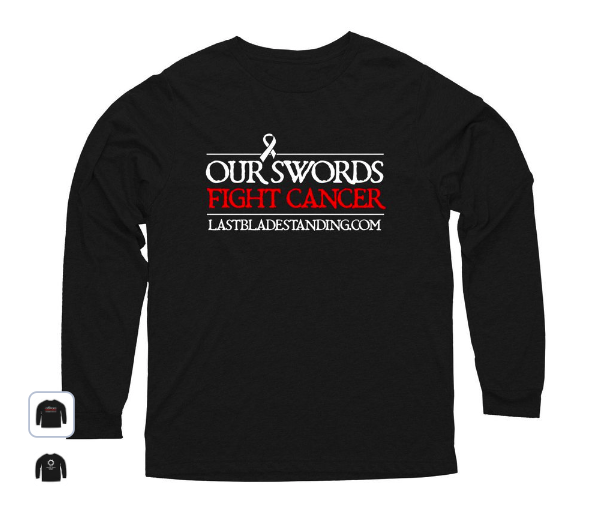 Jacksonville, FL, February 18, 2023 --(
PR.com
)-- Every season, Last Blade Standing gets bigger and better than the year before, but one part of the competition will always remain the same: the charity aspect. After competitors are chosen, Doc posts a list of potential charities, and the bladesmiths vote on which one they would most like to support. This year, the bladesmiths chose the National Pediatric Cancer Foundation.
Imagine sitting in a doctor's office and listening to the doctor tell you the most devastating news any parent can hear, that your child has cancer. Unfortunately, this happens to forty-three families a day, and in 2020, Kelly Goddard and her family were one of them. Her ten-month-old daughter, Riley, was diagnosed with stage 4 brain cancer and was given only one to two years to live. Many doctors told them the disease was incurable, but, like any parent, Kelly did not want to give up on her daughter. Finally, after many calls and a lot of research, she found a neuro-oncologist who said he was confident he could cure Riley. After three brain surgeries and a rigorous six months of chemotherapy, Riley is in remission and is now thriving and living the normal life of a three-year-old little girl.
For too many parents, though, the outcome is not as happy. The chances of a childhood cancer diagnosis are still considered to be rare, and because of this, only 4% of government-funded research is allocated to pediatric cancer. Additionally, many treatments used today were developed for adults in the 1940s, 50s, and 60s and are tweaked to fit the child's illness. As a result, 95% of children who are treated and survive will face life-long side effects and health complications from the medications themselves. The lack of funding and treatment options for pediatric cancer is scary.
Enter the National Pediatric Cancer Foundation, where Kelly Goddard now works as a Health Navigator. "I found that many families would ask me how I knew things like whom to reach out to or how to get a referral, and I realized that that came second nature to me as a nurse," said Kelly. "But a lot of these families have no idea where to start. One of my favorite things is to help families find the best treatment option out there for their children. So, that's my role within the organization."
Created in the early 1990s, the founders behind the organization, Melissa Helms and Risa Tramel, met at St. Joseph's Children's Hospital while their daughters were undergoing treatment for pediatric cancer. Fortunately, both young girls made a full recovery and are now thriving young adults. But Melissa and Risa were inspired to continue the fight and banded together to form the National Pediatric Cancer Foundation (NPCF).
The NPCF's primary objective is to help fund clinical trials and find a cure for pediatric cancer as quickly as possible. Their Sunshine Project has funded multiple clinical trials throughout the country, with nine currently open and active. By collaborating with over thirty hospitals and working with researchers from all backgrounds—something that truly sets this organization apart from others—they have aided in developing new, effective, less toxic cancer treatments for children.
"One problem with clinical trials," Kelly explained, "is accruing enough patients and getting enough information to have a decent amount of data. So, we have different sites throughout the county, and our teams collaborate and share knowledge and data to find a cure faster."
Not only is the NPCF's mission admirable, but donors can rest assured that their money is being used appropriately. Ninety percent of the funds brought in go directly into research, which is an extraordinary number. The NPCF has also received a 4-star rating for its financial transparency for the last eleven years—a perfect score.
Much of their funding comes from fundraisers and programs. Their goal is to take activities that people do every day and use them to raise funds. For example, programs like Brew Funds the Cure and Fashion Funds the Cure are popular.
So, this year, when it came time for the bladesmiths competing in Last Blade Standing to pick a charity fundraiser to support, the response to the National Pediatric Cancer Foundation was overwhelming. "In the end, this competition is for a cause bigger than any individual smith," said Clay Unruh, a competitor this season. "It means our swords are fighting for more than just the title or our egos. They are fighting to make a real difference, which I think is pretty cool."
The swords showcased on Last Blade Standing will be battle-tested on the competition floor and ultimately used to fight pediatric cancer. "I am honored to be able to make a sword that helps fight cancer," says bladesmith Nikita Blumenshine. "Winning rounds is really second to that cause. It's really all about the kids who have been dealt a hard hand, and if I make something that can help them in any way, that makes it all worth it."
How will Last Blade Standing be raising funds? In a couple of different ways. For starters, people can visit the Last Blade Standing website and purchase shirts that read "Our Swords Fight Cancer."
But the most significant source of charitable funds will come from the weapons themselves. Every sword that makes it through testing in one piece will be auctioned off online, with 100% of the proceeds going directly to the NPCF. So, if you are interested in owning any of the swords from this season of Last Blade Standing and adding them to your collection, check out the auction. Not only will the highest bidders be getting a one-of-a-kind blade, but they will be helping the National Pediatric Cancer Foundation win the fight against childhood cancer.
If you are interested in learning more about the National Pediatric Cancer Foundation, visit their website and read about their incredible efforts to find a cure for pediatric cancer. And if your child or a child of someone you know has been diagnosed and needs help, be sure to visit their site and reach out to Health Navigators like Kelly, who will make it their mission to get you the guidance and help you need during this difficult time.
Contact
Last Blade Standing Inc.
Matthew Martin
904-993-4009
https://www.lastbladestanding.com

Contact