Texas Company Helping to Make Waterparks, Public Pools and Splash Pads More Inclusive for Non-Speaking Children
Communication boards are an invaluable resource for children with autism and non-speaking children, allowing them to express themselves without verbal speech. Now, a Texas-based organization is helping making all public spaces, including waterparks, public pools and splash pads more inclusive with custom communication boards.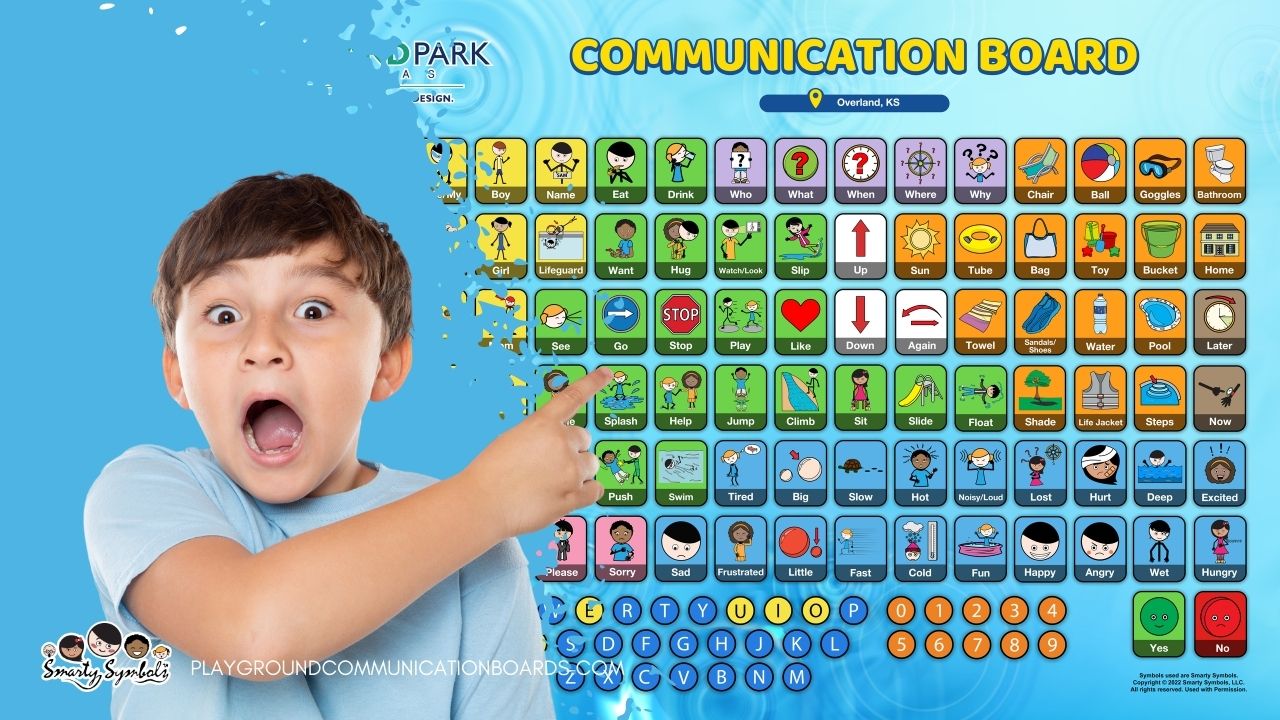 Rowlett, TX, February 21, 2023 --(
PR.com
)-- Communication boards are a valuable tool for children with autism and non-speaking children to express their thoughts and feelings without the use of verbal speech. They have been a tool that many school districts have included in their playgrounds. City parks have also started to understand the importance of adding communication boards to their parks and playgrounds.
Public libraries, pools and waterparks have just started to be aware of the importance of making their spaces inclusive for children who don't use verbal speech. Water parks can greatly benefit from the use of communication boards, as they can help both children and parents alike feel more comfortable and safe while enjoying the attractions. What makes waterparks and public pools one of the most vital places for these communication boards is the fact that children who use a device to communicate can't actually bring their speech generating device near water.
One of the main benefits of communication boards in water parks is that they offer an opportunity for children with autism or non-speaking children to express themselves. For example, some communication boards are equipped with visuals that help children express their emotions and needs, such as "happy," "sad," "thirsty," "hungry," and more. This can be especially beneficial for children on the autism spectrum, as they often have difficulty expressing their emotions through verbal speech. In addition, communication boards can also help non-speaking children communicate more effectively with their peers and adults.
Another benefit of communication boards in water parks is that they provide a sense of safety and security for both children and parents. Communication boards can help children feel more comfortable in unfamiliar situations and can help parents feel more at ease when in a crowded environment. For example, if a child is feeling overwhelmed in a noisy environment, they can point to a communication board to communicate that they need some quiet time. This can be especially helpful in water parks, which can often be overwhelming for both children and parents.
Until recently, when an organization was interested in making their space more inclusive for non-speaking children and adults would have to create their own boards. This time consuming and overwhelming task requires licensing appropriate images, hiring a designer, figuring out a durable and appropriate material and a printing company. Now, organizations can easily order communication boards from Smarty Symbols.
Renee Reis, the Aquatics Supervisor for the City of Overland Park in Kansas, is responsible for making one of their facilities more inclusive with the addition of a communication board. The staff at Overland Park recently completed a swim lesson program called "Swim Angelfish" to make their swim lessons more inclusive. Renee is working on making the facility more inclusive as well.
"Recently one of our parks, which is our first inclusive park, added a communication board as well. I also have a sister that works in special education and is a blogger for the Autism Helper. Seeing her work I knew I needed to do better to serve our community. I visited the park and wanted something similar. After seeing a post on Facebook I did some research and found that Smarty Symbols makes them specific to the pool setting. We offer a swim for individuals and their families with special needs so they can enjoy the pool and knew this would be a great feature to add." - Renee Reis
Smarty Symbols is a Texas-based company that has created a diverse and inclusive image library for educators. They have taken on the mission to make public spaces more inclusive for children with disabilities with communication boards designed for different spaces. Organizations can work with Smarty Symbols to customize the board with the park's logo, name and location. The organization receives a communication board ready to install in a matter of days. All of Smarty Symbols's communication can be seen on their dedicated communication board
website
.
Overall, communication boards in water parks can make a huge difference for both children and adults alike. They can help children with autism or non-speaking children express themselves more effectively, and can provide a sense of security and comfort for both children and parents. This can help create a more enjoyable experience for everyone involved, and can help ensure that everyone has a good time.
Contact
Smarty Symbols
Jonathan Fernandes
214-300-9487
www.smartysymbols.com

Contact