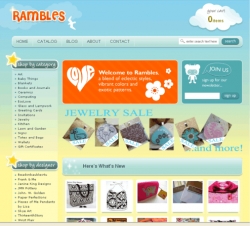 St. Louis, MO, August 15, 2008 --(
PR.com
)-- Maria Falconer rises early and smiles as she peruses her website with its funny little spaceships and odd almost 3D quality. Rambles.com
http://www.rambles.com
has been Falconer's vision for years, and now finally, another little corner of the Internet is hers. However, Falconer, also the founder of Rambles.us, a popular social networking sight for artists and designers, has big plans for a speedy expansion. "Eventually, we hope to feature artists, crafters and new designers from all over the world."
Falconer may just get her wish. With gas prices soaring, more people will likely choose to stay home this holiday season and do their shopping on the web. Add to that reality the growing frenzy over handmade goods, and Rambles.com could be the next big thing. Rambles.com hopes to corner the gift buying market, by capitalizing on its stylish, hip, trendy, unusual collection. The phrase 'Or you can just buy them a sweater' appears on the website and in the companies advertising, and will appear on t-shirts the company will begin selling this fall.
Gourmet foods and baked goods will also be sold on Rambles.com. The company hopes to add selections from small wineries and books from self-published authors to its offerings in the near future.
Given the fun, playful nature of the company- the website has a modern/space theme to it- its easy not take the company seriously. Even the name evokes a free-spiritedness and memories of Saturdays spent scribbling on the sidewalk in chalk as a child. But, Falconer warns against discounting the small retailer with big plans, claiming that even the company's whimsical name was chosen quite carefully. "We wanted [to choose] a name that implied a certain randomness. We believe strongly that art is a voyage of discovery. It's a winding, sometimes completely indiscriminate road and you just have to have faith in the process. Art is a journey, not a destination."
Rambles.com will also spotlight new artists and designers both in its newsletter and blog.
###