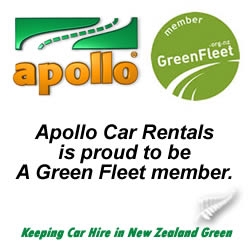 Auckland, New Zealand, June 04, 2008 --(
PR.com
)-- Apollo Motorhome Holidays has become member of New Zealand's GreenFleet program. The
New Zealand car hire
and
campervan rental
operator pledged to maintain and increase its environmentally friendly business policies.
Apollo CEO Luke Trouchet said, "As the Southern Hemisphere's largest privately owned leisure vehicle operator, we have a responsibility to minimise our environmental impact wherever possible.
"Apollo's GreenFleet membership symbolises our commitment to sustainable business practices, now and in the future."
As part of the company's GreenFleet membership, trees will be planted to offset carbon emissions from their fleet of quality motorhomes, campervans and car rentals in Auckland and Christchurch.
In light of increasing environmental awareness throughout the tourism industry, Apollo has implemented several policies designed to reduce their environmental impact.
"Our vehicle maintenance procedures are streamlined to reduce resource consumption," Mr Trouchet said.
Apollo reduces carbon emissions by maintaining a modern, fuel efficient fleet of vehicles. All new vehicles are manufactured to the highest industry standards by leading manufacturer Talvor Motorhomes.
The business provides and encourages the use of recycling facilities, and encourages staff to car pool or use public transport.
With a total of 13 branches throughout Australia, New Zealand and the USA, Apollo's GreenFleet membership is one of many planned environmental initiatives.
Initial Source: http://www.apollocamper.com/media/apollo-motorhomes-joins-green-fleet-2301200924643.pdf
###