Track Chic Announces First Male Photo Contest: Ladies, It's Your Turn
Track Chic introduces their first monthly online photo competition. Ladies start your engines to upload photos and vote for your favorite Lug Nuts at www.TrackChic.com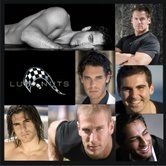 Atlanta, GA, June 05, 2008 --(
PR.com
)-- Ladies it's your turn to have some fun. In response to Track Chic members' suggestions, Track Chic has established an online male photo competition for female motorsports enthusiasts. Women can submit photos of their favorite Lug Nuts and vote on them. The Lug Nuts that receive the most votes will be the Lug Nuts of the Month. All twelve winners will be included in the Lug Nuts of the Year competition.
Track Chic's Lug Nuts are a fun, lighthearted response to all the barely clad female hostesses that men have enjoyed trackside for years. Track Chic separates itself from the usual male oriented race websites and offers female race fans a place of their very own. The Lug Nuts concept introduces the Fun that female race fans have been waiting for.
Theresa Earnheart, President, Track Chic says, "Track Chic Celebrates the 239+ million female race fans worldwide in a sport that to date has been marketed strictly to men. Women now have their own place to enjoy Speed, Style and Sisterhood with a refreshing sense of 'jocular humor.'"
No purchase is necessary for participation in the Lug Nuts Photo Contest. Only one valid entry per contestant per month is permitted. Official Rules for the Lug Nuts Photo Competition can be found at www.TrackChic.com.
Stay tuned for more details on all the fun things Track Chic members are planning. Coming soon to the Track Chic Boutique are whimsical Lug Nuts gifts such as the Lug Nuts GPS, 'Because men don't ask for directions,' the Lug Nuts Hearing Aid: 'Because men don't listen' or the Lug Nuts TV remote locator: 'Because men won't get up to change channels.'
Ladies can send Track Chic their own fun ideas for the Lug Nuts, or inquire about Lug Nuts personal appearances at info@TrackChic.com.
About Track Chic
Track Chic® is the largest female motorsports internet and social networking community that offers women their own news source for live race updates of NASCAR Sprint, Nationwide and Formula 1 series. Real-time racing news for NASCAR, Formula 1 and Indy Racing League, plus race results, driver standings, race schedules, driver stats, circuit calendars and driver bios. Track Chic also includes 15 other race schedules from AMA Pro to Grand Am and ALMS, a free Fantasy Cup NASCAR Auto Racing Challenge Game, Women behind the Wheels monthly interview features, videos of racing events at Track Chic TV, F1 Minute audio cast of Formula 1 race news, special events news, and charities updates.
Track Chic's Boutique has a unique collection of both Sassy and Classy fashions, jewelry and accessories, for savvy race fans wanting more than typical T-shirts. Track Chic fashions are perfect for wearing to the track on Saturday, church on Sunday and the office on Monday. Track Chic Body Shop's offers a line of pure, healthy skin care products for our female race fans. And Gift Ideas for female race fans.
Track Chic actively supports charities important to women, including children, education, women's health issues and support for our military families struggling with the emotional and physical wounds of war.
Membership in Track Chic has its privileges. All Track Chic Crew Members, www.TrackChic.com/crew, receive 10% discount on purchases in Track Chic's Boutique. Crew Chiefs, in addition to their 10% discount, also earn 10% "Fun Money" commission on all online purchases made by their Crew Members. The commission is calculated and distributed quarterly. If preferred, Track Chic will donate the Crew Chief's commission directly to the charity of her choice on the Crew Chief's behalf.
All Track Chic members also receive travel discounts. Track Chic has partnered with There and Back Again Adventures to give Track Chic Member 5% discounts on all their travel needs including race tickets, hotels, cruises, airline tickets, travel tours ... you name it. They will be adding more Membership Benefits as the Track Chic phenomenon continues to grow.
And now, the Lug Nuts Photo Contest: For women who share their passion for Speed, Style and Sisterhood.
###
Contact
Track Chic, Inc.
Theresa Earnheart
1-678-534-8572
www.TrackChic.com
3535 Peachtree Road, Suite 520-237
Atlanta, Ga. 30326

Contact