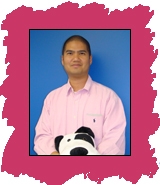 Irvine, CA, June 05, 2008 --(
PR.com
)-- Abrakadoodle, the nation's leader in creative art education for children ages 20 months to 12 years old, is pleased to welcome Luck Kanthatham to its growing franchise network. Luck will be developing Abrakadoodle's presence in the Central Orange County, with programs set to start in July. Classes will be offered at schools, community centers as well as retail shops in the the following cities: Irvine, Newport Beach, Tustin, Lake Forest, Laguna Hills and Laguna Beach.
"Luck brings a wonderful background to Abrakadoodle," remarked Rosemarie Hartnett, vice president of program expansion and training for the national franchise. "Combined with his love of children and education, we anticipate bright horizons."
Abrakadoodle, with over 60 locations operating nationwide, takes a different perspective in exposing children to creativity and the world of color. Abrakadoodle believes in a comprehensive approach to creativity, offering classes for painting, sculpture, collage, mosaics, design and even making artwork from recycled materials. These classes not only ignite a child's imagination, but they also build motor, language and cognitive skills.
"As a father of 3 young children who love art, I always enjoy doing fun art projects with them on the weekends" explained Mr. Kanthatham. "Realizing that other children are not getting enough exposure to art, I began looking for an opportunity that combines both art and education. This search ultimately led me to Abrakadoodle."
Research suggests that getting an early start in the arts can make a real difference in the lives of children, not only in terms of increased academic achievement but also greater problem solving and leadership capabilities. Arts education is important (see www.americansforthearts.org).
"Art is for everybody," stated Mary Rogers, M.Ed., and CEO of Abrakadoodle. "We empower children of all ages, backgrounds and abilities with wonderful art materials, enabling our well-trained instructors to inspire children to explore concepts and techniques while creating original works."
To find out more about Abrakadoodle art classes offered in the Central Orange County area, please visit http://abrakadoodle.com/ca09 or call (949)892-6356. And, yes, we also do birthday parties!
About Abrakadoodle
Established in 2002, Abrakadoodle (www.abrakadoodle.com) classes deliver comprehensive art experiences that immerse students, ages 20 months to 12 years old, in a broad landscape of activities including painting, collage, sculpture, mosaics, and more. While Abrakadoodle emphasizes active learning, its presentation of student's final projects with such products as FrameDoodles® have earned praise from parents and participants alike. Through an exclusive partnership with Crayola®, Abrakadoodle uses only the finest art materials in its classes. The magic behind Abrakadoodle is the creative energy between a child and his/her art materials ignited by a well-trained teacher.
###