MaxMouth Teams Up with Country Superstars Montgomery Gentry and the Legendary Gibson Guitars to Bring You the "Back When I Knew It All Video Contest"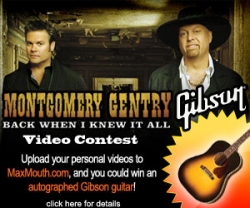 Los Angeles, CA, June 07, 2008 --(
PR.com
)-- MaxMouth (www.maxmouth.com), the Artist Centric 360º Online Entertainment Network that brought you the hit web series On the Road with Bon Jovi and is also one of the fastest growing Socially Fueled Virtual Entertainment and Broadcasting Networks, has teamed up with Country Music Superstars Montgomery Gentry and the legendary Gibson Guitars to bring to viewers the "Back when I knew it all Video Contest" on MaxMouth.
Viewers will have a chance to win a Gibson J45 Acoustic Guitar autographed by Montgomery Gentry, by submitting a user created video with the theme "Back when I knew it all", which is also the title of the highly anticipated new release from Montgomery Gentry which will be available June10th. MaxMouth viewers and Montgomery Gentry fans will be able to submit videos via www.maxmouth.com and also connect to the contest through www.montgomerygentry.com and via multiple social networks, making video submissions and finding critical info on the contest super easy.
MaxMouth and Montgomery Gentry have already partnered up with the super successful creation of the Montgomery Gentry Channel on MaxMouth which features exclusive videos and acts as an access point to the entire Montgomery Gentry Brand, including: Official Websites, Merchandise, Fan Clubs & more. MaxMouth has also created the Montgomery Gentry/MaxMouth Advanced Branded Embeddable Video Player, which is a Custom Branded Video Player loaded with a variety of Widgets, including a Mobile Solution provided by MaxMouth strategic partner Optic SMS, that connect Brand Value to Content and Content to Viewers as it promotes Viral Growth.
The MaxMouth/Montgomery Gentry Player can be viewed at www.maxmouth.com and
http://montgomerygentry.musiccitynetworks.com/index.htm?inc=5&news_id=13145
as well as other social networks, fan websites, blogs and on their official my space page.
In addition to other major Brands like Bon Jovi and Monster Garage, MaxMouth is currently being asked to create Exclusive Channels and MaxMouth Advanced Branded Embeddable Video Players for a variety of music artists, record labels, Film and TV production companies, and sports teams.
The "Back When I knew It All Video Contest" will run from June 1st 2008 to July 31st and the video submission with the most votes, will win the Grand Prize-an Autographed Gibson J45. There are 2nd and 3rd prizes as well and its all about fans and viewers connecting to their favorite artists via MaxMouth. Official Rules are readily available on www.maxmouth.com.
MaxMouth Founder and President Adam Bret stated "We are excited and honored to be working with both Montgomery Gentry and Gibson on promoting this amazing contest. MaxMouth and Montgomery Gentry really wanted to give something back to the viewers and fans and what better than an autographed guitar from Gibson!"
Visit
www.maxmouth.com
to register for Free and check out the Montgomery Gentry Channel and View the Entry Page and Commercial for the "Back When I knew it All Video Contest" at http://maxmouth.com/gibson.php
###
Contact
MaxMouth
Adam Bret
404-388-8897
www.maxmouth.com

Contact