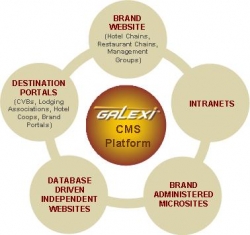 Santa Clara, CA, June 12, 2008 --(
PR.com
)-- Milestone Internet Marketing, Inc. Launches GalexiTM Content Management System for Hospitality and Travel Market.
Milestone Internet Marketing announced today the launch of its state-of-the-art, hosted Content Management System – GalexiTM, targeted at the hospitality and travel segments. The GalexiTM system enables hotel and restaurant chains and hospitality associations to rapidly deploy and manage websites for their members with great ease at a fraction of the cost of existing systems in the market. The sophisticated Content Management System is among the first of its kind targeted at small-to-midsize portal platforms for hotel and restaurant chains, management companies, and state and city hospitality associations. The platform is offered as a hosted solution, does not require major hardware or software installations, and can be accessed from any computer. The GalexiTM CMS platform is targeted at multiple applications such as intranets, websites for Cities and Associations, brand websites for hotel and restaurant chains, and database driven websites for individual hotels.
Flexibility and Scalability
Some of the key challenges with the existing systems in the market are limited flexibility and scalability. GalexiTM enables brands and associations to develop and remove websites in a matter of minutes. The system allows for the dynamic addition and deletion of menus and sub-menus. Brands can feature and rotate time sensitive specials and offers on the home page and load an inventory of packages and specials that each individual member website can select. The system scales from a simple single website to incorporating hundreds of websites.
Seamless Integration with 3rd Party Interfaces
GalexiTM enables seamless integration with third party services such as brand booking engines, third party booking services, weather.com services, Trip Advisor, etc. The tool comes with advanced authoring tools integration. Additional modules such as photo galleries, interactive Google Mash-up (for destination, city etc) can be added with relative ease.
Search Engine Friendly Drives Higher Revenue
In addition to the flexibility and ease of management, GalexiTM's main attraction are the search engine friendly features that result in higher revenue from the search engines for websites developed on this platform. The system is designed to be search engine friendly from the ground up and offers users the ability to add and modify meta-tags, alt-tags (image tags), etc easily. Each individual website can be assigned a search engine friendly domain address and each page within the website can be given a search engine friendly name. Clients have the ability to add several Web 2.0 and Social Media channels such as Blogs and User Generated Content modules depending on the budget and marketing requirements.
"We are excited about the potential of this system based on the results of several of our initial implementations that have gone live on this platform. The customer feedback regarding ease of use, lower maintenance cost, and ability to change content easily on the system has been very positive. We have seen a tremendous increase in website traffic and revenue for several of our initial implementations that have gone live," said Anil Aggarwal, CEO of Milestone Internet Marketing.
Some examples of GalexiTM implementations announced today include the following:
www.bestwesternpremier.com – Best Western International's portal for Premier Hotels worldwide. More than 90 individual hotel websites are built within the portal.
www.hershahotels.com – Hersha Hotels portal platform with over 55 individual hotel websites built within the portal platform.
www.vistarez.com - Brand website for Vista Hospitality.
For more information about the product and company, visit their website www.milestoneinternet.com or call (888) 350-8396 or email: sales@milestoneinternet.com.
About Milestone
Milestone Internet Marketing, Inc. is a leading provider of Internet marketing solutions for the lodging industry. Milestone's portfolio of services included Website Design, Search Engine Optimization, Pay-per-Click marketing, Email marketing, and several Web 2.0 initiatives like Online Videos, Blogs, RSS, etc. Milestone currently works with over 650 hotels and drives over $85M in annual revenue for its clients. Milestone is a preferred vendor for several major lodging industry brands and works with some of the leading management companies in the US. Milestone is also well known as a lodging industry educator for its Hotels to HTMLs internet marketing workshops and book. For more information, please visit www.milestoneinternet.com or call (888) 350-8396.
###