Metal Gear Solid 4: Guns of the Patriots Free Magazine
GamerZines.com produces one-off magazine dedicated to the year's hottest PlayStation 3 title. Includes introduction to Metal Gear Solid 4, official interview and MGS4 videos.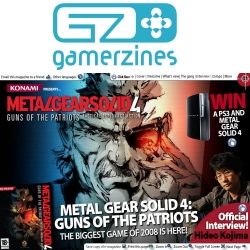 London, United Kingdom, June 12, 2008 --(
PR.com
)-- GamerZines.com, the portal for free digital magazines for gamers, today announced the immediate availability of the Metal Gear Solid 4: Guns of the Patriots magazine. Produced by the same team that creates P3Zine, the Metal Gear Solid 4: Guns of the Patriots magazine offers a complete guide to the upcoming PlayStation 3 title.
"Getting access to Metal Gear Solid 4: Guns of the Patriots to produce this magazine meant that we could produce a unique guide that lifts the lid on the game that every PlayStation 3 owner can't wait to play. Everyone wants to know how Hideo Kojima will bring the Metal Gear series to what is expected to be its ultimate conclusion" says Editorial Director, Dan Hutchinson.
In addition to delivering an in-depth tour of the new game, the magazine includes an exclusive interview with Hideo Kojima, as well as providing readers with a look back at the twenty years of Metal Gear through the video gaming ages. Available in English, French, Italian and German, and complete with hi-resolution screens, interactive elements and gameplay video, all available directly on the magazine pages, this official guide from Konami is a must-read for all Metal Gear fans.
All GamerZines.com magazines are professionally written and produced by a team of games journalists and publishers with decades of experience in the magazine industry. The portal offers free monthly magazines for various games platforms in interactive PDF format. All the magazines are enhanced with rich media and extensive video of the games in action.
Readers do not need to register to download the magazines, which are all completely free. All that is required to view the magazines is Adobe Reader version 6 or above on Windows or Mac, and a broadband internet connection.
Gamers can download the Metal Gear Solid 4 Special Edition now from
http://www.gamerzines.com/
###
Contact
Cranberry Publishing Ltd
David Taylor
0207 692 0883
www.gamerzines.com

Contact