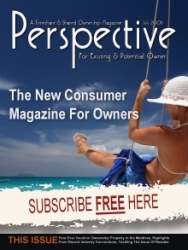 Orlando, FL, June 18, 2008 --(
PR.com
)-- The new magazine is aimed at existing owners and prospective vacationers, buyers or renters of timeshare, fractional, destination club and private residence club products; offering the latest industry trends, travel news, resort and destination reviews and guides, exclusive interviews, reader offers and much more.
Strong interest is also coming from prospective buyers as well as existing owners, showing the rise in interest in shared ownership products over the past few years.
Due to launch in the first week of July, Owners Perspective is also being marketed by several key industry players to their members who also see the value in an independent publication on the side of the consumer.
Owners Perspective is a high quality travel and leisure magazine for the timeshare and fractional / shared ownership industry, available free online and also available in print from January 2009.
Online subscription is free at
www.ownersperspective.com
###