Brocton, NY Native Releases Memoir and Launches Business in Pursuit of Healing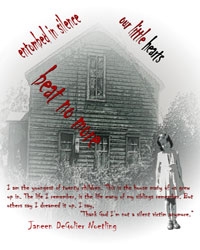 Albion, NY, June 24, 2008 --(
PR.com
)-- Janeen Brenda DeGolier Noetling, youngest of 20 children, has launched into motivational speaking on the basis of her first memoir of the life inside her childhood home, the destructive path it put her on, and the healing journey back to family in 2006. For contact information, visit her at "Shouting Down The Silence" at
http://entombedinsilencebook.com.
Robert Louis Stevenson once said, "The cruelest lies are often told in silence." Noetling has broken that silence for herself.
The Brocton, NY native accomplished this task with the constant support of several siblings who also were determined her story must be told.
"Entombed in Silence," a compilation of prose, graphics, old and new photographs and often heart-rending poems, was conceived in summer 2007 after the annual family reunion, when it became clear to Noetling that the pain and suffering of so many decades must end.
Noetling wrote the book at her sister's house in Albion, NY working 10 to 16 hours a day through her first winter in Upstate New York in 30 years. Her journals, poems, pictures, and memories gathered about her in her sister's living room, Noetling battled depression, fatigue, emotions too erratic to sort through and the criticism of some concerned family members. What got her to the end of her mission was the hope that her family, including the DeGolier grandchildren, would find healing as she had.
"Now there is no choice but to forge ahead; I've known the magic of free speech, the awful silence is but a tragic memory."
To that end, Noetling has already begun research for her next book, "Putting the Pieces Together," which will delve further into the curious dynamics of her childhood family. First, though, she intends to travel to North Carolina to spend time with her four children and 12 grandchildren, without whom she says, "It was in their hope that my hope was born."
"Entombed in Silence" is available in full interior color or gray scale at Lulu.com and at Amazon.com in gray scale. It will shortly be available in gray scale to bookstores via regular distribution channels.
###
Contact
Janeen DeGolier Noetling Shouting Down The Silence
Janeen DeGolier Noetling
7042190362
http://entombedinsilencebook.com

Contact