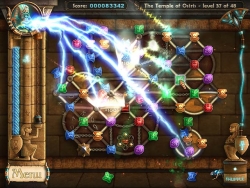 Seattle, WA, June 26, 2008 --(
PR.com
)-- Big Fish Games™, the world's leading online destination for casual entertainment, announced today the release of
Ancient Quest of Saqqarah
, a new casual game available exclusively from Big Fish Games.
Ancient Quest of Saqqarah is a
Puzzle game
with motion picture quality in story, sound, and script adding a new level of superiority to classic Match 3 play.
In the game, players travel back to Saqqarah, an ancient Egyptian dwelling, where an eclipse transpires over a mystic pyramid every thousand years. Below the pyramid's sands, a magical underground oasis is filled with puzzles, treasures, and legends. Players are tasked with fulfilling an old Egyptian prophecy to stop the evil god Seth from breaking out of his arcane tomb prison. In order to succeed, players must master seven distinct types of puzzles along with mini-games spread over 500 hand-crafted levels.
Players begin in the temple of Isis, swapping neighboring tokens by clicking on three or more items of the same kind. Throughout several stages, the objective is to light the entire board by making combos over the dark areas. Ancient Quest Saqqarah is an innovative
Match 3 game
in the way it lets players make matches vertically and horizontally in one simultaneous move adding an entirely new experience.
After five strong matches, an explosive fireball is hurled into the board by Khufu, the summoned monkey, for a "Mega Sweep." Players also experience bonus points with the Pharaoh's Combo and Desert Combo. When earned, a Shuffle option is available to reconfigure the board for additional matches. Unparalleled high-definition graphics along with motion picture-quality sound create a highly-immersive Puzzle experience.
Download Ancient Quest of Saqqarah
today at Big Fish Games. The trial version can be downloaded for free; the full version is available for $19.95 (U.S.).
Big Fish Games is a global leader and innovator in the casual games industry, producing and delivering the world's best games and game experiences. Big Fish Games Studios develops and publishes the industry's leading brands. Its portfolio of hit games includes Mystery Case Files®, Hidden Expedition™ and Azada™. Big Fish Games' portal at www.bigfishgames.com distributes more games worldwide than any other online site and offers visitors a rapidly expanding selection of content by launching A New Game Every Day!TM
###