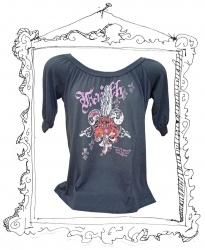 Arlington, TX, June 28, 2008 --(
PR.com
)-- The new Fall 2008 artwork created for Cutting-Up by its artist and founder Jo Dee Foster will also be placed on accessories such as necklaces, belt-buckles, and ball caps as well as gift items such as note cards and mousepads. All of the new designs evoke Cutting-Up's belief that art and messages built upon the simple assets of the heart, love, emotion and a nod to the Spirit in the sky are worth sharing with others.
Cutting-Up has expanded its 100% Eco-friendly line for fall by adding a "Good Energy" tee shirt, made of 100% organic cotton, and a matching large shopping tote made of recycled cotton. The company already offers a "Be Green" tee design and allocates 25% of all "Be Green" tee proceeds to the Earth Day Network, which seeks to grow and diversify the environmental movement worldwide.
"I am excited that so many fashion savvy customers love our designs and messages," said Foster. "Now customers can find the Cutting-Up brand in more than 650 upscale fashion boutiques and gift shops," said Foster. "We'll be focusing more attention on branding and publicizing our line and as always providing our customers with the very best in customer service."
In just two years Cutting-Up has seen their sales increase more than 1000% with market exposure to buyers throughout the United States. The line's unique art has caught the attention of buyers for fashion boutiques, gift shops and upscale department stores and created a loyal customer following Cutting-Up apparel and accessories.
The new line will be featured at the following markets across the country this summer and fall; Dallas Gift, Atlanta Gift, NY Gift, Vegas MAGIC, Dallas Apparel and Chicago Styelmax, as well as on their web-site in the "Coming Soon" section.
About Cutting-Up (
www.Cutting-Up.com
)
Cutting-Up is a "gentle-vibe line, with a relaxed hip feel" that includes vintage t-shirts, rockin' cool belt buckles, jewelry, sweet caps & visors and social stationary. In 2001, founder Jo Dee Foster decided it was time to turn her passion into her profession and started a business, utilizing her unique talent of creating thought-filled, mixed media collage artwork. Over the past several years, Cutting-Up has grown with the addition of Jo Dee's childhood friend, Colleen Cooper, and new business partners experienced in global growth businesses.
Today, Cutting-Up is growing rapidly, grossing over $1 million annually with more than 650 domestic and international retail store partners. As they continue to grow, they maintain their focus on positive, inspiring messages and strive to create a planetary brand that never loses the personal touch, as they live by their motto "Be Happy, Be Free!"
###