Children's Theatre of Knoxville to Premiere "Treasure Island USA"
Children's Theatre of Knoxville will present the premiere of a new play, "Treasure Island USA," at the Emporium Center for Arts & Culture beginning July 11. Written and directed by CTK Executive Director Zack Allen, the play is based on the classic novel "Treasure Island" with a new kid-friendly twist. Set around Charleston, S.C. during 1713, the play revolves around the well-known character Long John Silver and a gang of treasure-seeking children.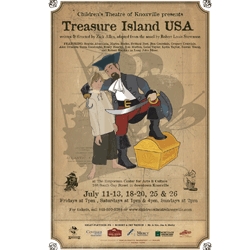 Knoxville, TN, July 02, 2008 --(
PR.com
)-- "Treasure Island USA" runs Fridays through Sundays, premiering July 11 and closing July 26. The show plays each Friday evening at 7 PM and Saturday afternoons at 1 PM and 4 PM. The cast will also perform the play on Sunday, July 13 and 20 at 3 PM. The Emporium Center is located at 100 South Gay Street in downtown Knoxville.
"'Treasure Island USA' will thrill and delight children of all ages," says Allen. "The show's theme teaches children about trust and friendship in the face of adversity, while transporting them to the thrilling and colorful world of 18th century pirates. We are excited about introducing many new fans to the exploits of Long John Silver and young Jim Hawkins."
To purchase tickets, call 865-599-5284. Tickets can also be purchased at The Emporium Center, starting 30 minutes before each show.
In addition to "Treasure Island USA," CTK will presenting a week-long workshop entitled "Imagi-Stage," in which children 6 to 10 are introduced to the world of creative dramatics and the craft of theatre. The class will meet July 7 through 11 from 9 AM to noon at The Emporium Center. The instructor for the class will be Jayne Morgan, a local professional actor and Clarence Brown Theatre veteran, who also teaches acting for The Knoxville Fine Arts and Crafts Center. The class will consist of theatre games, confidence-building exercises, and theatre study, and the students will perform a short play on the last day of class. CTK's regular Saturday class schedule also resumes in July, with morning classes for ages 7 - 11 and afternoon classes for ages 12 - 15.
###
Contact
Children's Theatre of Knoxville, Inc.
Zack Allen
(865) 599-5284
http://www.childrenstheatreknoxville.com/

Contact