Vacation Rentals Innovate to Provide Real Relief and Value to Guests
Vacation Rental Companies along the Gulf Coast have taken guest incentive programs to the next level, providing vacationers with complimentary golf rounds, deep sea fishing excursions, dolphin cruises, passes to amusement and water parks and more to offset skyrocketing gas prices this summer.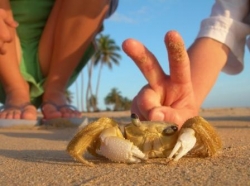 Destin, FL, July 08, 2008 --(
PR.com
)-- While some property management companies have struggled to entice guests with nominal discounts, gas cards or two-for-one deals, others have employed a more practical approach to providing their guests with real, tangible value this summer – amenity programs. These programs have identified guests' favorite vacation activities – like golfing, deep sea fishing, dolphin cruises, water park tickets and more – and provide them, complimentary, every day of a guest's stay. Travelers can choose from over 7,500 unique properties that feature these programs at
www.GetMoreVacations.com
.
"A $250 gas card can be enticing, but when you understand that a round of golf can cost $75 - $100, a day at Big Kahuna's (water park) can run into the hundreds, a dolphin cruise is around $30 and tickets to the Track (amusement park) are about $40 – that's a greater savings than $250 right there. But the real value is that these activities are available to guests every day. So, on an average five-day stay for a family of four – if one person plays golf twice, two enjoy a deep sea fishing excursion, and the family goes to the water park twice and then takes a dolphin cruise – you've saved $350 on activities you would've otherwise paid for out of pocket," says Ron Szuchy, director of sales for Amenity Services Inc. of Destin, Florida. "People are still vacationing, but they are cutting their time short and doing less of the things that make vacations fun because of financial constraints. Our programs make it possible for people to enjoy their vacations to the fullest, or even enjoy an extra day because of the overall savings. The properties that feature these programs don't cost any more than the ones that don't have them. It's all about real value to the guests. Our partners know what that means and they want to give that to their guests."
Amenity Services Inc. (ASI) is the nation's leader in free-to-guest programs that help property management companies provide guests with a more 'all-inclusive' vacation experience. Industry leaders and premier properties like ResortQuest of Northwest Florida, Portofino Island Resort & Spa in Pensacola Beach, Florida; Newman-Dailey Resorts in Destin, Florida; Laterra Resort & Spa in St. Augustine, Florida and Atlantic Realty in the Outer Banks of North Carolina are among 34 different companies represented on ASI's new site – GetMoreVacations.com. On the site, guests can select their destination and then choose the company that features the amenity program that would provide them with the greatest value and satisfaction.
"These are the activities that guests want when they go on vacation" says Szuchy. "In previous years, they were a courtesy – a friendly way for management to show their appreciation for staying at their property. However, in the current economic climate, they are invaluable."
###
Contact
Amenity Services Inc.
Kim Turner
850-654-9889 x4510
amenityservicesinc.com

Contact