Independent Features Film Festival Announces 2008 Festival Line-Up
Thousands Vote from Around the World to Select 23 Films.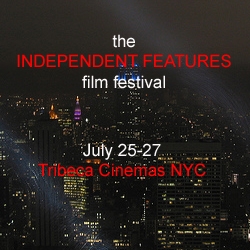 New York, NY, July 10, 2008 --(
PR.com
)-- Independent Features reveals the official selections for the 2008 Independent Features Film Festival (www.independentfeatures.com) which includes twenty-three films from 7 countries. The festival, which occurs July 25 – 27, 2008 at Tribeca Cinemas in New York City, is the only one in which a global public selects all of the films via a web-based competition.
Due to the immense number of votes and the razor-thin margins the films received this year the festival is screening an additional two films bringing the total to twenty-three. The top 23 films include 12 features, 3 documentaries and 8 shorts.
"Our festival is about providing filmmakers with a global audience for their films and letting the audience select what they believe are the most worthy films to screen at the festival," said Philip Nelson, founder of Independent Features. "The 2008 competition was so close we decided to accept additional films."
Below are the official selections to the 2008 Independent Features Film Festival:
Features:
1. The Pack, Drama, "The Pack' is a riveting drama where addiction, love and murder are burning issues."
2. The Beverages, Comedy, "A pretentious filmmaker follows a two man band around Boston in hopes of exposing the dire state of today's popular music and 'art.'"
3. The Importance of Being Russell, Comedy, " On the verge of his 10th anniversary, inventor Russell Hawker and his friends embark on an odyssey to Big City that may hold the key to humanity's survival. From a backwoods trailer to the bright lights of Big City, can three rednecks save the world and through it all can Russell remember his anniversary?"
4. Losing Will, Comedy, " A quadriplegic man asks his two best friends to take him on a road trip to his home town, and at the end of it, assist him with suicide."
5. Tomorrow for a Dollar, Comedy, " Graduating high school seniors come together for an annual end of the summer party highlighting the ups and downs in their friendships and their journey through childhood. But what will happen on this day will change the teens' lives forever."
6. Brother, Drama, "A man comes home at 4AM to find his wife dancing with a handsome stranger."
7. Shooting Johnson Roebling, Comedy, " Film student, Charles Pavolski, finds himself wrestling his inner demons in a world of reality TV and high powered network executives. Breaking free, he kicks in a door to the underbelly of NYC on a hunt for his missing mentor. This fast-paced, wild ride will change the course of his life forever."
8. The Assemblage of the Crystal Sphere: A D&D Story, Comedy, " In this Mockumentary, a film crew follows and documents a group of Dungeons and Dragons players in the last 3 months of their five year adventure campaign."
9. Finally Completely Lost It, Drama, " A struggling artist attempts to win back his high-maintenance ex-girlfriend by taking her on a road-trip to an expensive spa in the Catskill Mountains of New York where things don't go as smoothly as planned. "
10. El Señor Presidente, Foreign, "A country that falls apart amidst the degradation of a shameful tyranny and the levels of decomposition of a corrupted society, both opposed to a tragic love story that seems doomed from inception, are the key plot lines of 'El Señor Presidente."
11. Goodbye Baby
12. Ser O Estar, Foreign, "After his hallucinations cause problems in the U.S., Andy sets out to become immersed in the culture of a small Spanish town. As the title suggests, Andy must battle his own giant windmills, go on modern adventures, and navigate the ways of Spanish women to find a way to be... or to be.
13. Henry May Long, Drama, "Henry May is the self-destructive, golden child of a prominent New York family in 1887. Henry Long is a resourceful, terminally ill entrepreneur. Their chance meeting reveals to both men what they have lost to get where they are, what they are willing to risk to get what they want and what they are willing to lose to live."
Documentaries:
14. A Call for Valor, Documentaries, "Police Sergeant Ken Hogan was involved in an armed encounter with a suspect who had mission to kill Hogan and himself. The suspect completed one part of his mission--he died. Sgt. Hogan had a plan to survive and he did. In his own words, Hogan vividly recalls his call for valor."
15. That Asian Thing, Documentaries, "That Asian Thing' explores the Asian-American culture within mainstream America. Concentrating within an up-and-coming Asian-American community, Chicago, IL is the 3rd most metropolitan city in the US. Interviews with artists, professors, and everyday people help to unify feedback on how Asian-Americans are marketed, pigeon-holed, and non-existent in this land of opportunity."
16. Wahine Disaster, Documentaries, " Factual Documentary 'Wahine' tells for the first time the full extraordinary story of the sinking of a passenger liner and the dramatic rescue of over 700 passengers and crew."
Shorts:
17. Me and My Old Man, Pilots, "Me and My Old Man is a weekly half-hour comedy that marries two great comedies of all times (Odd Couple and Sanford and Son) mixing a variety of comedic timing along with real life situations. "
18. Heartless, Shorts, "Simon is a heartless children's book writer struggling to bring heart to his adaptation of the story of the Tin Man when he loses himself in his story and goes further than reality permits to find his heart."
19. Double Talk, Shorts, " An interesting seduction scene in a restaurant"
20. Tutto Come Prima, Shorts, "A young director interviews a Notary for a documentary. He is recording everything with his camera, but is not the only one. Two security cameras are recording master shots. The secretary and Notary's wife is listening and viewing everything."
21. Pizza Guy, Shorts, "Two girls, one too many BJ's (Bartles & Jaymes wine coolers of course) and a dead pizza guy. Did the creepy neighbor do it or is he just taking the rap for the woman he loves?
22. American Piety, Shorts, "A self-absorbed man gets hit by a car, goes to purgatory, and has to choose a religion to get back to Earth."
23. Drinking and Driving, Shorts, "It's prom weekend and everyone is excited and getting ready. Christina is so happy to be going this year with her date Stephen. They go and have a great time at the dance. Stephen takes Christina to an after party where everyone is drinking…"
This year's festival will also screen the five finalists of the New York-based college short film competition called the NY Living History Project. In honor of Visiting Nurse Service of New York's 25th anniversary, The NY Living History Project will pair up-and-coming student-filmmakers with hospice patients to portray an important neighborhood memory. All five finalists' will have their films screened at the festival and the lucky winner will receive $10,000 and other prizing.
A complete schedule of screenings as well as ticket sale information is available at www.tribecacinemas.com.
About Independent Features (www.independentfeatures.com)
Independent Features was created by two independent filmmakers who learned firsthand how hard it is to find an independent film an audience. After completing their first independent feature in March of 2001, they ran into the same predicament most independent filmmakers find themselves in. They found it very hard to find their film an audience. After years of working outside of the film industry they talked about giving it another shot, they always loved independent film. Instead of producing another film they decided to go another direction, they created a platform that would give independent filmmakers a global audience.
Independent Features pioneered the first film festival in which film selection is done ONLINE via a web-based competition. The 2008 competition took place May 5th through June 30th with the top 23 films receiving an invitation to the Independent Features Film Festival. The festival will take place July 25-27 at the acclaimed Tribeca Cinemas in Lower Manhattan.
###
Contact
Independent Features Film Festival
Annette Nelson
651-983-7679
www.independentfeatures.com

Contact