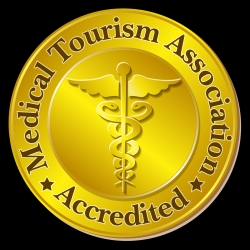 San Francisco, CA, July 15, 2008 --(
PR.com
)-- Medical Tourism Accreditation.
The Medical Tourism Association announces "Medical Tourism Accreditation Program." Information on accreditation is available at the new Medical Tourism Association website at
www.MedicalTourismAssociation.com
.
The Medical Tourism Association has launched "accreditation" to ensure the safety and overall positive results for patients traveling from one country to another. "Having the right processes and procedures in place to assist international patients has a direct correlation to better surgical outcomes for those patients," stated Renée-Marie Stephano, Chief Operating Officer of the Medical Tourism Association. The accreditation for Medical Tourism Programs is critical to help patients, employers and insurance companies identify which hospitals have the highest quality of care and the right processes and procedures in place to ensure patient safety during their entire patient experience. As the industry grows, there is a greater need to assure that hospitals, clinics, recovery centers and facilitators entering the Medical Tourism industry have the proper patient management procedures to manage the patient experience before they begin their journey until well after they return home. These procedures should include proper communication, transparency in quality and pricing, informed consent, appropriate aftercare and continuity of care once the patient returns home. The Medical Tourism Association Accreditation is not an identification of the quality of the surgeons or the facility outcomes, rather it focuses on the international patients' services and protocols currently being utilized and marketed to foreign patients, allowing patients, employers and insurance companies the ability to identify those organizations that are qualified to receive patients that are looking for specific medical tourism services.
The accreditation system will focus on the "Medical Tourism" aspect and is not intended to accredit quality or to replace any accreditation system. This new MTA Accreditation system "complements" existing accreditation systems currently in place.
Foreign patients may have special needs and requirements different than domestic patients. Hospitals, clinics, and facilitators need to be able to accommodate different cultures, religions, language barriers and other requirements. It is reasonable for patients to request and be provided with this information easily.
An accreditation panel made up of an international committee of healthcare experts will review each application and perform due diligence, investigation and research to determine if the organization meets the standards and criteria of accreditation. Organizations that qualify will be given the "Medical Tourism Accreditation Logo" so that patients, employers and insurance companies can be aware of the availability of certain services.
###