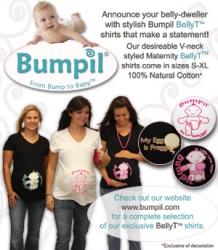 Melbourne, FL, July 18, 2008 --(
PR.com
)-- The Bumpil Company, innovators and manufacturer of the award winning Bumpil® On the Way™ pillow, expand their product line now boasting a new line of maternity T-shirts. Bumpil Belly T's are stylish fitted maternity t-shirts designed to comfortably fit a mom-to-be from beginning to birth. Made from 100% all-natural cotton jersey, these shirts are soft, stretchy, and breathe—a must during pregnancy. Bumpil Belly T's are ideal for a casual day out, or staying in. There are a variety of cute and unique designs available that are sure to draw other's attention with a smile.
"Being pregnant is exciting and should be fun. We want women to make a statement about their tummy dwellers with something cute and clever" said Anne, the founder and manager of the Bumpil Company. Many companies have offered maternity t-shirts with various pictures or phrases; however, Bumpil Belly T's express some of the emotional and intimate experience between Mom and baby that makes pregnancy so great. Without a doubt, Belly T's have successfully brought style to the Bumpil Brand and will be available for purchase in late July 2008.
For additional information about Bumpil products, contact The Bumpil Company at 1-866-657-9721 or visit www.bumpil.com
About The Bumpil Company
The Bumpil Company, based in Melbourne, Florida is a privately held company and was established in early 2006 by the mom-inventor Anne Dockendorf. The Bumpil Company, known for comfort, convenience, and versatility strives to make pregnancy easier and fun for every mom-to-be with unique products. For more information, visit
www.bumpil.com
.
###