RCI Confirms Support of New Consumer Publication for Shared Ownership Industry
Owners Perspective magazine, the independent global publication for existing owners and prospective buyers of all shared ownership products which launched last week with an initial subscription base of 5,300 can now confirm the support of the industry's largest exchange company to help extend its reach in delivering valuable content to consumers.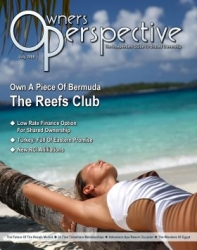 Miami, FL, July 18, 2008 --(
PR.com
)-- Jonathan Back, Managing Director, RCI commented:
"As my parents were timeshare owners, I came into the industry knowing what a great product timeshare is. Surprisingly, the majority of holidaymakers remain unaware of the excitement, the lifestyle and the travel opportunities that can be enjoyed through timeshare ownership.
Owners Perspective is the first independent consumer publication dedicated to timeshare and I'd like to congratulate Paul and Sharon Mattimoe for having the foresight to share their passion for this great holiday lifestyle with a wider public.
Paul and Sharon have succeeded in making a tremendous success of the business-facing publication, Perspective Magazine. It's clear from the inaugural issue of Owners Perspective they are bringing the same energy, enthusiasm and understanding of timeshare to readers of the new title.
The value of having the independent voice of Owners Perspective is immeasurable. The magazine will provide a trusted, informative and lively channel of communication, while helping to generate a strong sense of community among owners to help them to get the most out of their holidays.
Resort development and exchange companies will also benefit from having another channel from which to learn yet more about what owners and members want in their holiday. And, as timeshare is constantly developing, Owners Perspective will have an important part to play in explaining the benefits to the customer of the exciting new shared-vacation ownership products coming on to the market.
We at RCI are on a mission to inspire our members to discover the world of adventure and wonderful experiences an investment in a lifetime of shared-vacation ownership holidays represents. We very much look forward to helping Paul and Sharon to make Owners Perspective the success it deserves to be."
The first edition of Owners Perspective magazine has received fantastic reviews across the globe, and in interviews creator Paul Mattimoe, CEO of Perspective International Ltd explains "The first edition has allowed for a successful launch, but it is really just the shell of a magazine at the moment – it has good content, but it's personality will be injected over the first few months as the readers get involved and tell us what they want to have in their magazine."
On the recent announcement regarding RCI's support he says, "We enjoy a great relationship with Group RCI via our business publication, Perspective Magazine, but to have their support in our new venture into the much wider field of the consumer is very exciting and will help us to accurately deliver essential information regarding the industry, as well increasing our reach globally."
The high quality online version of Owners Perspective boasts free subscriptions to existing owners and prospective buyers of timeshare, fractional ownership, destination clubs, private residence clubs and investment real estate.
For more information visit
www.ownersperspective.com
About RCI
RCI offers its members a world of choice. With more than 4,000 affiliated resorts in over 100 countries, RCI members can enjoy so many incredible destinations and memorable experiences. From soaking up the sun on a Spanish beach or relaxing in luxury at a Caribbean all-inclusive resort to marvelling at the breathtaking scenery of some of Europe's most spectacular mountains or refreshing mind and body in Finland, home to some of the finest spa resorts – RCI has everything you are looking for in a holiday.
Though their most popular type of holiday is an exchange, they are continually looking to give their members greater flexibility to make their holiday planning easier. Their range of cash-only holidays – Extra Holidays and Late Deals – offer even more choice of high-quality value holidays that the RCI brand guarantees. Visit
www.rci.com
to be sure you're making the most of your holidays.
About Perspective International Ltd
A PR & Media company for the timeshare, fractional and shared ownership industry, specializing in brand and business development, promotion of products and services and recruiting via its B2B publications and services; and now provides branding and marketing opportunities to consumers through two new B2C products.
For more information visit
www.perspectiveinternational.com
###
Contact
Perspective International Ltd
Sharon Mattimoe
+1 407 792 2343 / +44 7775 607 903
http://www.ownersperspective.com
B2B Perspective Magazine - http://www.theperspectivemagazine.com
Owners Perspective Magazine

Contact