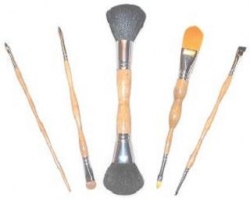 Baltimore, MD, July 25, 2008 --(
PR.com
)-- The Artist Brush Collection will aid the relief of carpal tunnel symptoms and other musculoskeletal disorders associated with pain in the hand and fingers. What will make The Artist Brush Collection successful is that it is the only brand designed to contour the digital bone structure of the hand to reduce pressure on the fingers. Using inverted curves in the brush handle designs allow the brushes to curve over the digital bones, giving our brushes the ability to provide an easy comfortable grip and feel.
The Artist Brush Collection will not be available in department stores. According to Denise Hubbard inventor of The Artist Brush Collection; "Our goal is too create an intimate purchasing experience, I believe it would be lost in a department store atmosphere." The line will be exclusive to: beauty salons, day spas, on line stores and independent beauty professionals. With an initial investment of $600.00 clients are expected to triple their investment within the first month. The Artist Brush Collection has already gained accolades as a 2008 History Maker nomination for aiding in the relief of carpal tunnel symptoms.
The suggested MSRP $150.00 per set or the brushes can be sold individually which would equal the same great value as per set.
Contact Information:
Denise Hubbard
Theartistbrush@earthlink.net
www.theartistbrush.goods.officelive.com
###
If you would like more information about this topic or to schedule an interview with Denise Brown Hubbard, please call Denise at 443 677 6922 or email Denise at theartistbrush@earthlink.net