Art-and-Home.Net Expands Tapestry Wall Hanging Collection
The Art and Home Tapestry collection has grown. What started as a few dozen tapestries, has now reached nearly 1,400 tapestries, the largest collection Art and Home has ever carried.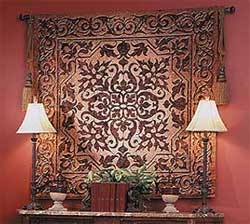 Lynn, NC, July 30, 2008 --(
PR.com
)-- With the ever-growing popularity of tapestry wall hangings as a stunning alternative to traditional wall décor,
Art & Home
continues to expand their collection of available tapestries for consumers.
Partnering with one of the most respected tapestry manufactures in the U.S., based out of Lynn, North Carolina, www.Art-and-Home.net has continually added new tapestries in a variety of styles, sizes and colors, and has now reached the collections largest size in Art & Home's history. With nearly 1,400 tapestry wall hangings currently available (and more being added on a regular basis), customers can select from contemporary, traditional, abstract or classical.
"Tapestries are more than just décor, they are woven pieces of art," says Paul Stainton, Owner of Art & Home, located online at www.Art-and-Home.net. "Where else can you get all the beauty of a painting, the acoustic benefits of a rug and the uniqueness of a hand-crafted artefact all in on. It's no wonder that tapestries are becoming more and more popular as our customer's choice for wall décor."
The tapestry collection began with less than 200 pieces, and has grown over time. With the most recent additions, the collection now includes 1,398 tapestry wall hangings, plus a large collection of tapestry throws and woven tapestry throw pillows. The tapestry collection is divided into various categories, including traditional, contemporary, landscapes and more.
Art-and-Home.net is an online retailer specializing in unique and stunning décor products for the home and garden. A family owned and operated business, they are always seeking new, fresh and decorative products in order to provide their customers with a unique shopping experience.
###
Contact
Art & Home
Paul Stainton
705-321-7945
http://www.art-and-home.net

Contact