Beautorium Presents…Saaf Pure Skincare: a Marriage Between Safe Science and Nature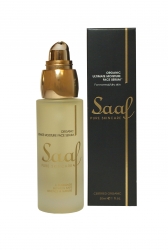 New York, NY, July 31, 2008 --(
PR.com
)-- Making its way from England to the U.S. and raising the bar on beauty, Saaf Pure Skincare is the world's first beauty brand to feature such an extensive list of third-party accreditations, including the UK soil association, naturewatch, vegan, and it's also halal and kosher certified. Scientifically-proven effective, Saaf is organic as well as natural, featuring active ingredients like Rosehip Oil, Black Seed Oil Safflower Oil, Neem Oil and steam distilled essential oils in the formulations of smooth textured cleansers, serums and hair oils that supply skin with beautifying effects. The Saaf Pure Skincare secret is making its premiere exclusively in the U.S. at Beautorium, the online marketplace for the planet's premier collection of natural and organic beauty care.
Founder and formulator, Dr. Mah Hussein-Gambles has utilized her expertise in Homeopathy and Pharmacology to offer a collection of beauty care using the finest quality organic raw materials which:
-Boost the immune system and contains anti-inflammatory properties
-Provide skin with the highest levels of natural anti-oxidants, vitamins, minerals and Omega 3 and 6 found in nature
-Gently restores and provides skin with immediate relief and long-term results
Capitalizing on the earth's natural ingredients has encouraged Dr. Mah to pair ancient knowledge with an advanced understanding of modern-day pharmacology. As a recognized skincare expert in the U.K., Dr. Mah's main priority is caring for the Earth as well as for your skin making Saaf Pure Skincare:
-100% natural, vegetarian, alcohol-free, non-irradiated and free from Genetically Modified Organisms
-Free from animal testing
-Compliant with the EU Cosmetic Products (Safety) Regulations
Saaf Pure Skincare is available exclusively in the U.S. at
www.Beautorium.com
. For more information please contact Andra Mielnicki, Lindsay Reiter or Linsey Tilbor at Behrman Communications, amielnicki@behrmanpr.com / lreiter@behrmanpr.com / ltilbor@behrmanpr.com, or (212) 986-7000, or log onto www.beautorium.com.
About Beautorium
An online marketplace for the planet's premier collection of natural and organic beauty care, the beauty of Beautorium is its natural simplicity. It takes the guesswork out of hunting for the truly natural, truly organic, good-for-your-skin beauty ware so all that's left is the gathering. The beauty marketplace at large is saturated with "organic" products and it's hard to know what's real and if it works. Having done the homework, Beautorium has hand-picked and carefully screened each and every brand it offers to ensure consumers get the most out of a positively organic experience.
###
Contact
Behrman Communications
Linsey Tilbor
212.986.7000
www.behrmanpr.com

Contact