2008 Olympics Inspire Cutting-Up "Joy from Effort" T-Shirt and Essay Contest
Share your personal story of receiving joy from your efforts and enter a chance to win an inspired T-shirt.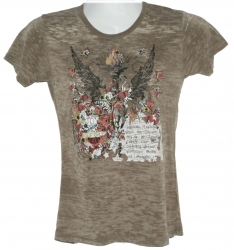 Arlington, TX, August 09, 2008 --(
PR.com
)-- Cutting-Up spreads its good vibe messages in a new way by announcing a "Joy From Effort" Essay Contest inviting entrants to relate how their hard work has been rewarded with joy.
The top 10 personal stories will be posted on their web-site and awarded with a "Joy From Effort" T-shirt, shortly after the closing ceremonies.
"I began the "Joy from Effort" T-shirt with the Olympics in mind," said Jo Dee Foster,
Cutting-Up
founder and collage artist. "As I worked what rose up for me was why we connect with these amazing athletes. There's a saying, 'God rests in reason and moves in passion'. Our hearts may dictate a purpose but determination takes passion. From there it's about the desire to rise above our own limits.
"When we watch Olympians we witness the overcoming of obstacles and it lifts our own limitations, increasing possibilities for our own capabilities," said Foster. Connecting with another's dream frees us to attempt more in our own lives. Ultimately, it's about going for it, whatever it may be for you personally.
"Joy from Effort is about participating and enjoying the experiences along the way," she added. "That's something we can all relate to. When we achieve small goals along the way, it fuels our passion. The hidden beauty lies in the unforeseen gifts - the people, experiences, and self-knowledge acquired along the way. All of these aspects recharge our fearless desire to overcome obstacles and heroically persevere the day to day."
"You don't have to be an Olympic athlete to have a moment when you realize that everything that you do is worth it and how overcoming the challenges of a sport, a business or a personal cause has made you a better person," said Foster "We want to hear from you. Tell us why your hard work brings you joy."
To enter the Cutting-Up Joy From Effort Contest, send your story to info (at) cutting-up.com on or before August 20, 2008. The Top Ten Entries winning entries will receive a Joy From Effort T-shirt and their essays will be posted on the Cutting-Up.com website, as an inspiration to others.
About Cutting-Up (www.Cutting-Up.com)
Cutting-Up is a "gentle-vibe line, with a relaxed hip feel" that includes vintage t-shirts, rockin' cool belt buckles, jewelry, sweet caps & visors and social stationary. In 2001, founder Jo Dee Foster decided it was time to turn her passion into her profession and started a business, utilizing her unique talent of creating thought-filled, mixed media collage artwork. Over the past several years, Cutting-Up has grown with the addition of Jo Dee's childhood friend, Colleen Cooper, and new business partners experienced in global growth businesses.
Today, Cutting-Up is growing rapidly, grossing over $1 million annually with more than 650 domestic and international retail store partners. As they continue to grow, they maintain their focus on positive, inspiring messages and strive to create a planetary brand that never loses the personal touch, as they live by their motto "Be Happy, Be Free!"
###
Contact
Cutting-Up
Dot Anderson
972-978-5057
www.cutting-up.com

Contact