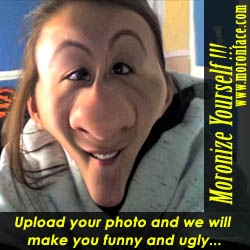 Los Angeles, CA, August 31, 2008 --(
PR.com
)-- It's time to face the truth. Sometimes people like to look funny, but they wouldn't like it if others called them a "moron." However, at moronface.com people do get moronized. And this doesn't worry them at all. They enjoy it.
And so do their friends and other members of moronface.com. This hilarity-causing concept has encouraged thousands more members to join moronface. They're all wanting a 'slice of the action'. Even the site authors are complete morons.
No, they don't wish to offend anyone. But if you present yourself to moronface.com, they promise to make people laugh till they cry. And, this crazy but wonderful idea of making people funny and ugly, is all done using a simple facial photograph.
At moronface.com people need to 'Upload' their photo or someones portrait that they would like to "moronize"; then just sit back and wait a short while until the authors and editors at the website make photos extraordinarily funny. Hilarious.
Enjoy.
Start now,
make funny pictures
, create Your hilarity at
www.moronface.com
To visit them click here:
create funny pictures
.
###