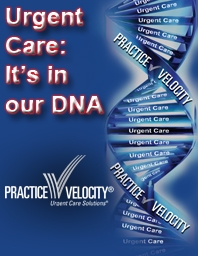 Practice Velocity® Urgent Care Solutions® (www.practicevelocity.com) offers patented software solutions to the urgent care industry. Its urgent care EMR and practice management software solutions are used in more than 800 urgent care centers in 50 states. Its solutions and services include:

Urgent Care EMR: VelociDoc® and PiVoT™ are two completely unique and interchangeable EMR systems, allowing urgent care physicians the power and flexibility to implement systems rapidly with minimal pain in the learning curve. These are the only systems designed originally for urgent care physicians by urgent care physicians. Physicians can learn the system on the user-friendly PiVoT--a paper template system that is scanned across the Internet for automated coding and medical record storage. Physicians can transition gradually to VelociDoc, a tablet PC EMR that is optimized for the speed needed and specific procedures performed in urgent care. Both systems use the patented PV coding engine to optimize coding compliance and maximize revenues. The VelociDoc tablet PC electronic medical record is designed to rapidly document every aspect of the patient visit. The solution is integrated with electronic prescribing, discharge instructions and computerized radiology. Providers may also select the PiVoT system for rapid documentation on paper templates that are scanned into the system for automated coding and electronic storage.

Urgent Care Practice Management Software: This practice management software is made specifically for urgent care centers. It offers a registration screen that allows receptionists to register patients as they walk in as private, workers compensation, or employer-paid services. The integrated occupational medicine protocols ensure that staff can follow the specific wishes of their clients. Standard features include electronic billing, electronic remittance, specialized reports, integration with PiVoT and VelociDoc EMR systems, integrated credit card billing, and more.

Directory of Urgent Care Centers: GoUrgentCare.com is offered free to Practice Velocity customers. This directory of urgent care centers appears at the top of many Google searches for "urgent care mycity." The site receives more than 800,000 unique visitors per year; most of these visitors come directly from Internet search engines.

ZipPass® Online Same-Day Appointments: This feature allows patients to "Get in line, online." This simple pre-registration procedure is based on the actual current patient volume in the clinic. It allows urgent care centers to optimize patient flow while maximizing patient convenience.

Urgent Care Billing Services: PV Billing, a division of Practice Velocity, has processed more than $500 million in urgent care billing revenue for 156 urgent care centers in 36 states.

Urgent Care Startup Consulting: NMN Consultants, a sister company, offers urgent care consulting services. More than 100 startup clinics have used their services for help with site selection, pro forma, business plan, obtaining financing, marketing, occupational medicine services and everything related to starting an urgent care center.

If it has to do with urgent care, Practice Velocity can help you toward Peace-of-Mind Profitability.
Status

Private Company

Founded

2002

# Employees

250