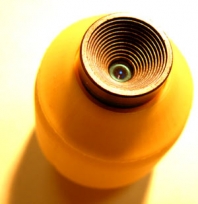 EEOS, headquartered in Salt Lake City, has developed a new color camera small enough to fit in the palm of your hand, and tough enough to be thrown on a concrete floor or into an aquarium without suffering damage.

With nothing comparable, this camera stands alone due to its high quality, its resistance to very harsh conditions, and very light weight (1.1 oz.). Cased with a metal/plastic composition, it is chemical, oil, water, and shock resistant. Easily mounted on any surface, it has an infinite focus with an illumination sensitivity of 2 lux.

EEOS's 3 engineers bring over 50 years design, research and development experience to their product. With a focus on the video and electronic markets, its staff is highly confident this new product will provide a long-awaited solution to the lack of a durable, efficient, and rugged product to all industries in need of a hardened camera fit to withstand harsh physical conditions.
Status

Private Company
Company History
EEOS was launched in March 2003 by an engineering partnership to create a solution to industries needing robust products that would not sacrifice quality. With its flagship product, the CLR 01 video camera, and with key industrial partnerhip offering wi fi controls and displays, telemetry, and video blanking, EEOS continues to aggressively seek solutions to customers needing increasingly sophisticated display.

Headquartered in Salt Lake City, and with products manufactured and assembled locally, EEOS pays detailed attention to the quality and continued refinement of its products.