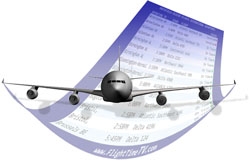 State College, PA, December 03, 2008 --(
PR.com
)-- Global Software Applications, the foremost provider of business center solutions to the hotel world, celebrate the recent complete acquisition of Flight Time TV.
Global Software Applications (GSA), the creators of SurferQuest internet kiosk software and IPrinthere mobile printing, proudly announces the complete acquisition of Flight Time TV. While Flight Time TV has always been managed by Global Software Applications, it wasn't until recently that Flight Time TV became an official part of the GSA family.
For the past 8 years Global Software Applications has worked with over 750 hotels to provide revenue increasing solutions and convenience aimed guest amenities. Because of GSA's team of top developers and programmers they have been able to provide amenities including Mobile printing, Self Maintained Guest Computer Software, Flight information / Airport Status on guest TV's and Wayfinding directional applications.
Flight Time TV, now officially under GSA, broadcasts live flight information from any designated airport(s) directly onto the guest TV network or single display screens and message boards of hotels. Flight Time TV is a worldwide service and unlike its competitors, Flight Time TV does not require hotels to invest in expensive equipment or install bulky hardware. Flight status is easily displayed on the guest room TVs by a simple connection to the hotel TV network. Flight Time TV is also set apart by reliability and accuracy. FTTV is the only supplier that receives the information from not only the FAA, but air traffic control and runway control as well. This ensures that the information will always be accurate.
Since the launch of Flight Time TV in early January, 60 installations have already taken place. FTTV is providing flight information to Marriott, Hyatt and Westin brand hotels, as well as many luxury boutique properties. Flight Time TV's successful adoption into the hospitality industry has enormously boosted sales and clientele for the company.
"It is so exciting to see such a good idea launch off the ground as quickly as Flight Time TV has." Says Ron Koning CEO, Flight Time TV. "Since the first installation in January, we have seen an enormous increase in interest and sales, as well as finalizations on a few major deals. We are all ecstatic with how far it has come and cannot wait to see what the New Year will bring."
Flight Time TV's value shines through with the potential revenue that can be made. When guests are promptly informed of the cancelled or delayed status of their flight at the hotel, they can immediately and conveniently extend their stay. Because Flight Time TV costs so little per month, most hotels can make the investment back with the sale of one room.
Flight Time TV is affordable, reliable and appreciated by travelers. Not only does Flight Time TV provide the most accurate service and flight information available, but also provides 24 / 7 live customer support for any questions that may arise.
"We are dedicated to providing the best customer service possible and ensuring the satisfaction of each and every guest. Our developers are constantly improving and finding ways to meet the growing demands of the hotel industry. Flight Time TV can ensure that you keep ahead of the competition and offer a guest amenity that is truly appreciated," concludes Ron Koning.
Please visit
www.flighttimetv.com
for more information, web based demos and client testimonials and references.
Contact: Amanda Smith
Flight Time TV / Sales Director
Amanda@flighttimetv.com
814-342-3120 x302
###