GSA Releases HERE 2 THERE Dynamic Wayfinding and Directory Solutions
GSA, the world wide distributor of Internet Kiosks, launches HERE2THERE wayfinding and directory kiosks, targeting industries like Hospitals, Airports, Large Commercial Buildings, Casinos, Golf Courses, etc. HERE2THERE shows the visitors where they currently are and prompts them for the destination they are seeking, generating directions on the fly.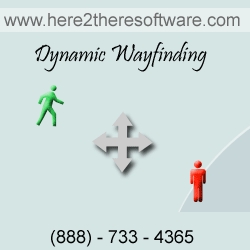 Philipsburg, PA, June 13, 2007 --(
PR.com
)-- The HERE2THERE Wayfinder is a web based application combined with an interactive touch screen kiosk. HERE2THERE allows visitors to quick and easy view (and print) maps, floor plans, descriptions, names, and phone numbers or find the person, office, company or store that they're searching for, at the touch of a finger.
Since the application is web based, the company can choose to have HERE2THERE connected to their web site, providing the visitor at home, the same convenience.
Kathryn Koning, President of Global Software Applications adds; "Global Software Applications (GSA) mission has always been to develop software that makes life a little easier in this modern era of technology. With the days of individual offices disappearing under the new emerging multiplexes, people are finding it increasingly difficult to find their way to there destination."
The revolutionary part of HERE2THERE is that the directions are generated dynamically, by connecting stored way points into a line, a technology originally developed in the gaming industry. This means that if there are 200 directions, the same map will be adjusted 200 times 'on the fly', instead of creating, storing and maintaining 200 fixed directional maps. "You can only imagine how much time and investment this saves", adds Koning, "and with the Digital Signage feature activated the application can generate revenue as well".
HERE2THERE software is a product of Global Software Applications, LLC. G.S.A. was established in 2001. Their mission is to provide integrated computer hardware and software solutions for the self service industry with SurferQuest Kiosk Software and iPRINTHERE, the Public Print Station as the most recent examples.
www.here2theresoftware.com
###
Contact
Global Software Applications
Ron Koning
814-342-3120
www.globalsoftwareapplications.com

Contact