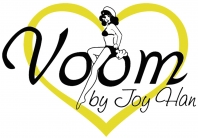 VOOM was founded by Joy Han and her husband, James Kim. Together they started the line in 2002 and began mass production in 2005. The collection has been gaining a lot of media attention and has already been featured in Elle Italia, Lucky, Glamour, Marie Claire, Cosmopolitan,and InStyle. In March 2006, VOOM debuted the Fall/Winter 06' collection at Mercedes Benz Fashion Week at Smashbox Studios in Culver City.
As the sole designer of VOOM, Joy Han is the heart and soul of the company, the original "VOOM Girl". She is a brilliant and innovative designer creating a new genre of style "Twisted Vintage" and is already being called "Ms. Galliano" by people in the fashion industry.
At the age of 7, she began making near perfect doll sized replicas of the gowns in her mother's couture, bridal salon. Joy's mother, who was a judge on the panel for the Miss Korea Pageants throughout the 80's and 90's, saw the talent in Joy and later sent her abroad to study fashion design. Joy attended AIU with a full
scholarship and in 1998 received her bachelor's degree in fashion design.
Joy has dressed the likes of many celebrities in the music and entertainment industry including: Jessica Alba, Eva Longoria, Paris Hilton, Nicky Hilton, Eve, Shannon Elizabeth, Ghuliana Di Pandi, Avril Lavigne, Jennifer Love Hewitt. Joy states, "...as a designer I feel the responsibility to create styles that'll make a woman feel young, beautiful, and confident without being a trend that you can wear for only one season. I want to create new classics that look trendy without being the "IT" trend, so they can wear it anytime, any season, year after year."
The Voom by Joy Han line can be found at Patricia Field's in New York, Intuition in Culver City, and over 500 specialty boutiques throughout the U.S., Japan, Kuwait, Bermuda, Brazil, Indonesia, Singapore, Dubai, Kingdom of Bahrain, S. Korea, Taiwan, Hong Kong, Argentina, Greece, UK, and Canada.