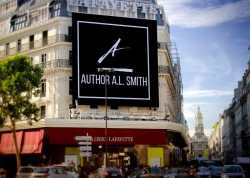 Dallas, TX, January 11, 2018 --(
PR.com
)-- Human trafficking is often considered an international phenomenon and women from third world countries are typically the first images that come to mind. However, "familial human trafficking" is a more intimate crime due to the dynamics of the underlying relationships. Based on a true story, Behind Closed Doors 2 is an intriguing urban fiction tale that captures the very essence of the world's fastest growing crime.
Setting: East St Louis, mid-80s. The city is on the verge of economic collapse. Often considered the heart of America's bottom because of its location downstream from the Mississippi River, it is also one of the most impoverished small cities in the country. In light of the poor infrastructure, rampant crime, and poverty, East St. Louis is the epitome of a third world country and a potential breeding ground for sex trafficking. After the imprisonment of her father, 12 year old Dana is forced into human trafficking...her mother brokers the deal.
Dr. Smith is the author of the critically acclaimed Behind Closed Doors 2: Dana's Story and the producer of the award-winning independent short film "Dana's Story," which is an adaptation of the Amazon Best Selling novel. Smith is a native Louisianan, practicing Certified Registered Nurse Anethetist and Officer in the Army Reserves. In 2010, she traveled to Haiti in the aftermath of the devastating earthquake and provided care to a countless number of victims, most of whom were children. The experience would heavily impact her views concerning socioeconomic disparities here in the U.S. and countries abroad and ultimately provide the inspiration for her second novel, Behind Closed Doors 2: Dana's Story. Smith is determined to use her voice as a writer and independent filmmaker to raise awareness concerning domestic human trafficking and other perils of urban living.
https://www.alsmithbooks.com/film/