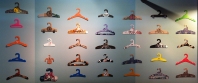 Ditto Sustainable Brand Solutions conceived, produces and distributes the world's first 100% recyclable, ecological hanger to replace the estimated 36 billion plastic retail hangers landfilled every year. Engineered from 100% FSC certified recycled paper, the Ditto Hanger is a disruptive technology that redefines the one-function, one-time use plastic retail hanger.
Ditto Hangers are designed specifically for the rapidly growing "Garments on Hangers" programs, where one-use plastic hangers are put on garments overseas. An estimated 85% of these hangers are thrown out at the store level, as many as 93 million hangers a day.
Ditto Hangers are a solution. The Ditto hanger represents an extraordinary alternative to the industry norm of using virgin, toxic, limited resource materials, with little or no consideration for environmental consequences. Ditto Displays are a highly designed, highly functional, customizable, manufacturing and market-trend solution to the environmental misalignment of a billion dollar garment industry.