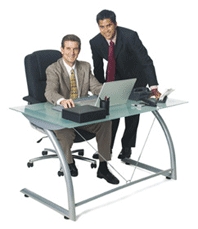 Telecentrex offers an advanced suite of virtual communication services that allow small businesses and professionals to communicate more efficiently, sound larger and project a more professional image.

The concept of Telecentrex's suite of services is simple. Most small businesses lack the capital and support resources to purchase sophisticated PBX-style telecommunications equipment that projects a professional image to callers. As a result, most small businesses either purchase a basic voicemail service from their local telephone company, or use a first-generation unified messaging service targeted mostly to consumers.

Telecentrex decided to bridge the gap between small business budgets and advanced communication technology by offering virtual communication services with pbx-style features typically found on large scale Fortune 500 telephone systems for a monthly subscription fee at a fraction of the cost. Subscribers have no equipment to buy or software to install.

Our Freedom800™ (www.freedom800.com) service is a hosted PBX service that automatically answers, routes and screens all incoming calls. Each virtual PBX system is completely customizable and includes a toll free number, multiple extensions, unlimited voice mail, music on-hold, follow me live call forwarding and more. More advanced systems include the abilities to accept incoming faxes, email message delivery and web-based access to manage their voice systems from remote locations via the web.

The Freedom800™ service works particularly well for small companies with distributed employees that want to create the impression of a single office. With the multiple mailboxes and extensions included with each service plan, companies can designate different extensions to different employees and allow callers to dial one toll free number to reach any employee, regardless of the employee's geographical location.

Regardless of whether your small business has 30 employees or is a solo operation, the Freedom800™ service gives your business the flexibility in how it reaches customers. This communication flexibility allows companies and its employees to be more mobile without giving losing touch with customers. It's truly a "must have" service for any small business.

Our RealtyOne800™ AdTrakker (www.realtyone800.com) service aims to help real estate professionals and brokers develop a new level of trust with their customers, provide a more professional image and enhance their marketing skills. It offers real estate professionals an automated way to list their properties, generate leads and track their advertising efforts. It also includes automated call routing that will automatically connect callers to them, regardless of whether their in the office or not. The most recent additions to the service now include a marketing library, the optional ability to capture names and addresses and regularly updated news and tips to help agents generate more business.

Our Fax800™ FaxFreedom (www.fax800.com) service offers mobile professionals and growing businesses an enhanced virtual faxing solution for pennies a day. It's so powerful, many simply dump their old clunky fax machines. Forget about additional equipment, phone lines or maintenance. Each Fax800™ FaxFreedom service comes with a dedicated toll-free fax number that allows callers to send faxes 24 hours a day, 7 days a week, without getting a busy signal. All incoming faxes are delivered via email, as attachments for easy viewing, printing or saving. Sending faxes is just as easy. Easily send faxes, online, from any computer in the world with a few clicks of the mouse.
Status

Private Company

Founded

2001