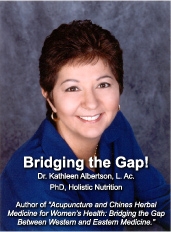 Kathleen Albertson, L. Ac, PhD is the president and owner of Albertson Acupuncture & Herbal Care, Inc. located in Dana Point, CA. She has been in practice for over 23 years offering acupuncture, herbal and nutritional services to thousands of patients--men, women and children.
Dr. Albertson is the author of "Acupuncture and Chinese Herbal Medicine for Women's Health: Bridging the Gap Between Western and Eastern Medicine."
She holds a PhD in Holistic Nutrition and has published her dissertation on "The Use of Traditional Chinese Medicine for Treating Female Fertility."
"I offer a gentle and caring approach to each patient and at 66 years young, I still love what I do."
Dr. Albertson specializes in Fertility - both Male and Female.
She also is certified in Acupuncture Orthopedics for pain, neurological or other chronic issues.
Dr. Albertson also has expertise in allergies and has been an NAET practitioner for over 20 years.
She speaks frequently on subjects that include not only fertility, but cancer management and how acupuncture helps digestive issues like IBS, and Crohn's disease.
She is available for consultation or speaking engagements.