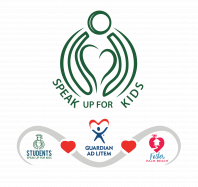 Speak Up for Kids' (SUFK) mission is 100% advocacy for every abused, abandoned, and neglected child in Palm Beach County. With the vision of a community where every child is nurtured, supported and has access to connections and resources necessary for them to know their value and reach their full potential. We champion best-interest child advocacy through the recruitment, training and retention of court-appointed volunteer child advocates. Through effective advocacy the cycles of abuse, violence and crime are being broken one child at a time, and children's futures are being rewritten. These volunteers are committed solely to each child's emotional, educational, and physical well-being throughout dependency court proceedings. 640+ volunteers work with the children directly, and then in a team approach to represent the child's best interests.

Targeted Initiatives

#1 STUDENTS Speak Up For Kids
STUDENTS Speak Up For Kids empowers students with opportunities to serve and speak up for children in the dependency court system.

#2 Therapeutic Court, award-winning pilot, the first of its kind in the US, to serve the most complex cases in our county through a round-table team approach.

#3 Early Childhood Court targets the best interests of infant and toddler child victims and their families working toward safe, permanent placement faster.

#4 Foster Palm Beach in 2018, we extended our impact efforts creating Foster Palm Beach to recruit more foster families locally.
Status

Private Company

Founded

2008