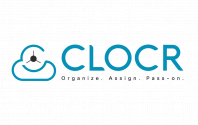 Clocr, short for Cloud Locker, is an industry first all-in-one "Estate Planning & Disbursement Platform" for online accounts and digital assets. Clocr empowers you to efficiently organize your digital assets and enables you to identify your heirs, and allow them to access your online accounts and documents in case of emergency and death. Clocr offers three integrated services: Estate Plan for Digital Assets, Secure Digital Vault, and Digital Time Capsule making it unique and one of a kind. Our vision is to make Clocr a one-stop shop for families to use and pass on their legacy easily and securely.

Our mission is to provide peace of mind to our customers around the world by eliminating the pain and frustration in creating and managing their digital assets through personalized AI/ML-powered predictive and suggestive insights.

Our vision is to help our customers effortlessly manage their digital assets and provide peace of mind that their digital portfolio is safe and accessible to their designated beneficiaries.
Status

Private Company

Founded

2018

# Employees

15