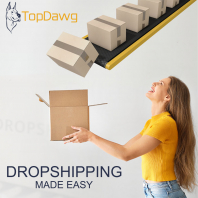 TopDawg, Inc. is an American company based in Fort Lauderdale, Florida. TopDawg owns and operates SAAS applications that include topdawg.com the TopDawg Platform and the TopDawg applications available on marketplaces such as Shopify and WooCommerce. TopDawg was founded in 2004 by a group of e-commerce and marketplace platform experts. In 2017, the company expanded with a state-of-the-art e-commerce platform that offers an easy, convenient and profitable way for online retailers to gain access to wholesale suppliers who have products available for dropshipping.

TopDawg makes e-commerce for retailers less stressful and more affordable because they don't have to hold inventory, have no upfront costs or long-term commitments and the Sart-up membership plan is complete free. TopDawg works by connecting retailers with TopDawg's growing network of verified and vetted suppliers that can dropship products to the U.S. and worldwide.

TopDawg's dropshipping business also provides simple to use integration services for leading e-commerce platforms such as Shopify, WooCommerce, Magento 2, Opencart, BigCommerce, PrestaShop and more, as well as providing complete API integration services for those that require it.

TopDawg prides themselves on having suppliers within their platform that carry wholesale products with good profit margins, starting at a minimum of 40%. TopDawg's goal is for retailers to have plenty of spread between the wholesale price and MSRP so they can be more competitive, increase sales volume and make more money per sale. Along with more than 250,000 e-commerce friendly products that include, fashion, kids, auto, electronics, sports, pet supplies and more, TopDawg is a digital inventory hub, inventory manager and expert delivery service, wrapped in one.

To learn more about TopDawg, please visit www.topdawg.com.
Status

Private Company

Founded

2004