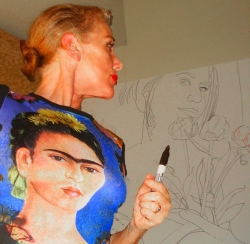 Sausalito, CA, August 28, 2008 --(
PR.com
)-- Emerging artist hardly seems a fair depiction of a veteran of nearly thirty-five years as a professional Architectural Illustrator/Artist.
Nancy is emerging with a surge of larger than life figurative oils. She is heralded by two simultaneous openings at San Francisco venues. She will be amongst a myriad of male erotic artists at the West Hollywood-Los Angeles Erotic Art Fair Weekend, October 4th and 5th. Working furiously to keep up with the pace of this new lifestyle, that has developed over the past 12 weeks, she is embracing her talents and bringing her dreams to fruition.
Femina Potens Gallery and FP Edge Network, have focused on building relationships and recognition between cutting edge LGBTQI and Erotic artists and venues within the greater queer, feminist and sex positive communities. Nancy has been accepted into their network and is being supported in ways that are strengthening her abilities as an Erotic artist. Tina Butcher, executive director of the gallery has been instrumental in securing venues for Nancy's work. Femina Potens Gallery is located on Market Street in the Castro district of San Francisco and is dedicated to increasing queer and erotic art exposure in the Bay area. The enormous support and overall exposure in the community has been a driving force behind Nancy's drive to produce. Femina Potens Gallery can be found at
www.feminapotens.com
and
fpedge@gmail.com
.
"I had to embrace my older work," says Nancy Peach of her show at OneTaste Urban Retreat Center, 1074 Folsom Street, opening September 5th in San Francisco. "It was all the pieces I've loved in my private collection." The show includes 2 panels that were extracted from the 30 ft horse mural that she had painted for the Marin Showcase House, Equestrian Manor in 1998. The sensual figurative work is subtle and arouses feelings of contentment with an enormous appreciation for the talent that goes into her work. She began her figurative work years ago at Palomar College in San Diego in 1980 and continued when she attended Art Center College of Design in Pasadena. "It's amazing that OneTaste wanted all the older work," says Nancy. The Urban Retreat center was transformed with her art, creating the ambiance of seduction and sensuality.
Her retrospective work can be seen at
www.nancypeach.com
. This site is dedicated to the past 35 years of illustration work that has been her signature. She has dedicated an entirely different site to her erotic work at
www.nancypeacherotic.com
.
Nancy Peach Erotic Artist becomes her new theme. There are few women who work in this realm, dominated by mostly gay male artists. In fact the Hollywood Erotic Art Fair Weekend is 99% male. Her feminine energy will definitely add a new dimension to the scene in which she is immersing herself in.
Nancy photographs models and combines them with other images to design her paintings before work ever begins on the canvas. "My inspiration comes from the models themselves in ways I often don't recognize or understand until I'm well into the piece. Symbolic meanings of elements in my work are discovered after they emerge and often the models reveal very personal connections with those allusions from times earlier in their lives that I knew nothing about. For me the images just came because they seemed to fit the people I was painting," says Nancy.
Her new body of work opens at Good Vibrations, 1620 Polk Street, San Francisco on September 4th, the day before the show at OneTaste. Nancy says, "It's just amazing how well it all came together, I could not have choreographed it any better." This all seems to speak not only to the eclectic celebration of her previous art, but also to the waves unfolding on her emerging career as an erotic artist. "I turned 50 last April and I love it!To be half a century old forced me to re-examine my life and embrace my gifts. I have to do what I love and let my talents spring forth," says Nancy.
Nancy has been influenced by some wonderful artists whose work fills her space as she paints. Egon Shiele, Gustav Klimt, Tamara De Lempicka and you can't forget Eminem. In the lyrics of Loose Yourself, Eminem says "If you only had one chance, would you use it or would you blow it?" "We all really only have one chance at life. Are you going to pick up the brush and become a masterpiece or just another painting?" says Nancy.
Nancy is living on the edge these days, risking it all and diving into the deep, unknown territory of Erotic Art.
###