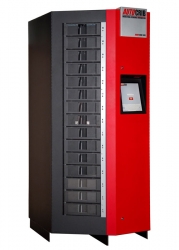 Santa Ana, CA, September 09, 2008 --(
PR.com
)-- AutoCrib, Inc. (www.autocrib.com) today releases the latest version of its popular RoboCrib carousel tool dispensing system. The RoboCrib 500 will provide distributors and users with the power of RoboCrib in a compact and mobile machine.
The RoboCrib 500 offers high-security issue and return of a variety of items, including tools, fasteners, welding supplies, MRO, gloves and PPE supplies. Its flexible configuration allows for both large and delicate items to be dispensed from the same machine at the point of use rather than from a central tool crib saving time and money while increasing control. The smaller size and lower cost means exceptionally rapid payback for smaller companies or for larger companies who want to dispense from more locations to save trip time.
AutoCrib CEO, Steve Pixley explains, "The RoboCrib 500 is very well suited to smaller users as well as larger users who want to de-centralize item delivery as much as possible. Moving items to the point of use/work is a common goal of many Lean initiatives." The RoboCrib is designed for unparalleled flexibility and product density in a compact 30" wide, 32" deep and 75" tall configuration. The compact RoboCrib 500 has the ability to run as a stand-alone unit or become part of an extended AutoCrib system.
This system utilizes a series of counter rotating carousels that provide access to items through fifteen doors, the same proven technology used on the RoboCrib 1000 and RoboCrib2000. A fully featured 12" touch screen allows users to issue or return items from a maximum of 628 bins. A number of bin sizes are available to accommodate a variety of item sizes and shapes.
RoboCrib 500 lists at $14,500. Orders are being accepted now – contact sales@autocrib.com
• Fits in standard tool cabinet space (30"x 32"x75")
• 24/7 availability with 100% total security and accountability
• Saves 20-40% on indirect supply costs
• Eliminates tool crib trip time by locating supplies at point of use
• Reduces stock outs and purchase orders using Demand Based Ordering
• Exclusive RoboCrib 5.3 software with dashboard provides instant access to your critical supplies metrics
• No need to repackage items
• Exclusive frameless doors allow access to larger items
• Flash PC (no hard drive) embedded windows XP
• 12" touch screen mounted in portrait orientation
• Soft keyboard appears on screen as needed
• Available with wheels or leveling feet
• Seamless integration into existing AutoCrib systems or can be used as a standalone system
About AutoCrib
AutoCrib industrial vending systems are driven by AutoCrib's powerful software, which gives you real-time usage data and in many cases, will update your ERP system. This helps you dramatically reduce the cost of indirect supplies by as much as 20-40% -- because your employees are now accountable, and you control access to tools and supplies.
At AutoCrib, the basic concept of "tool vending" has evolved into a wide variety of products that will help you control perishable tooling, safety supplies, MRO supplies and other "indirect materials". Our product line includes handheld scanners, automated lockers, automated cabinets, traditional vending machines, RFID portals and robotic carousel systems. No other company has such a variety of point-of-use dispensing technology — and can provide as complete a solution as AutoCrib.
To date, AutoCrib has over 4000 units installed throughout North America, Europe, South America and Australia. AutoCrib systems are sold primarily through our network of over 100 industrial distributors. AutoCrib is based in Santa Ana, California; with offices in Atlanta, Cincinnati, Dallas and Chicago.
###