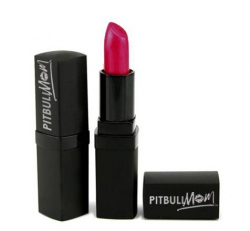 St. Louis, MO, September 18, 2008 --(
PR.com
)-- After Americans tuned in to meet Vice Presidential candidate Sarah Palin for the first time at the Republican National Convention, entrepreneurs Laura Kurzu, Fess Crockett and Mark Miselnicky launched into action to develop Pit Bull Mom™, a new line of products sold on
www.pitbullmom.com
and targeting today's conservative women.
The Pit Bull Mom product line consists of two shades of lipstick (Pale N' Pink and Republican Red), as well as Pit Bull Mom logo wear t-shirts, hats, coffee mugs and water bottles. The brand idea was based on the now famous "Pit Bull/Lipstick" quip made by Palin while accepting her party's nomination.
"We saw a woman with beliefs so strong that a Pit Bull really is the closest comparison. A woman whose determination and strength resonated in a vibrant, empowering way," said Laura Kurzu, partner in Pit Bull Mom. "So that inspired us to create a line of products to celebrate the relentless passion, devotion and beauty that reflects the idea of a Pit Bull Mom."
"American women across the country have been holding their lipstick in the air as a sign of support for Sarah Palin," added partner Fess Crockett, "And we felt that the time was right for women everywhere to more boldly display their allegiance through Pit Bull Mom."
Along with Creative Director and business partner Mark Miselnicky, the team went to work designing a product line that offered consumers the perfect balance fashion and flair. "Somehow the name Pit Bull Mom just seems to sum it all up. We all know and love a Pit Bull Mom – someone who is loyal, determined, intelligent, and beautiful. And the Pit Bull Mom line of products celebrates all of it," stated Miselnicky, "We went for the kind of quality statement this woman would demand."
The Pit Bull Mom brand logo is a combination of quiet strength and unconditional love. The design element of the lipstick signature is representative of the way a woman would sign a note at home – grabbing anything nearby and signing with a kiss, in this case with lipstick. "Our feeling is that PBM's everywhere will want to join this movement," added Kurzu, "We (Pit Bull Mom's) are all inspired by the same beliefs and ideals as the candidate."
Products are available for sale on the brand's website,
www.pitbullmom.com
and are popularly priced, with most under $10. A portion of the proceeds from each sale will be donated by the company to The Special Olympics, an organization that supports special needs children.
For additional information on Pit Bull Mom™ Lipstick or Pit Bull Mom products, contact Laura Kurzu at
laura@pitbullmom.com
or visit
www.pitbullmom.com
. See product sheet that follows.
About Pit Bull Mom™ - The Pit Bull Mom brand is a trademark of Pit Bull Mom, LLC. All Pit Bull Mom products are available for sale on
www.pitbullmom.com
.
Products:
Pit Bull Mom Lipstick - Pale N Pink. $9.99
Pit Bull Mom Lipstick - Republican Red. $9.99
Pit Bull Mom T-shirts - 100% cotton, pink v-neck or white crew. $9.99 - $14.99
Pit Bull Mom Lip Balm – available in 5 pack $9.99
Pit Bull Mom Hat - white brushed cotton with Velcro closure $9.99
Pit Bull Mom Tumbler – 16 oz stainless steel with plastic liner $9.99
Pit Bull Mom Water Bottle (2 pack) – 20 oz plastic bottle $9.99
Contact:
Laura Kurzu
Pit Bull Mom, LLC
(314) 223-1400 - phone
(314) 426-0366 – fax
laura@pitbullmom.com
P.O. Box 37003
St. Louis, MO 63141
www.pitbullmom.com
###