London Veterinarian Secures Purrrfect End to Tale of Internet's Most Popular Cat
A popular feline who attracted thousands of fans when London's only cat only veterinary surgery posted pictures and videos of her on the Internet has been successfully re-homed, despite a tendency towards violence as reported in the local newspaper, the Richmond Informer.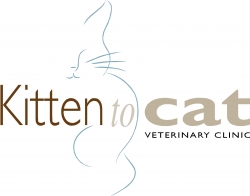 London, United Kingdom, September 24, 2008 --(
PR.com
)-- Betsy, as she has been named, became a minor celebrity in Internet pet circles when she was rescued by Kitten to Cat veterinary clinic in June. After posting videos and pictures on, among other things, United Cats – a feline social networking site (think Facebook but for cats) she attracted nearly 4,000 friends and her video was viewed thousands of times.
Despite the combined efforts of thousands of followers it was a local newspaper article describing her as "old, homeless and [with] a tendency to lash out unexpectedly" that ultimately led to her re-homing.
Zeta Frasca, cat vet and owner of Kitten to Cat veterinary clinic in London hopes the story will raise awareness of the importance of micro-chipping and keeping owners' details up to date. "Betsy's owners had her micro-chipped so we should technically have been able to find them. Unfortunately they did not update the register when they moved house so after exhausting all the options we had to re-home her."
After reading about Betsy in the Richmond Informer, a local Kew resident visited Betsy in the clinic and immediately fell in love with her.
For Betsy, who was known more for her tendency to lash out at photographers than being social it was an ideal arrangement. Her problems, which were a result of living on the street and prolonged neglect, were not a problem for her new owner who dismissed them saying "I was so blown away by her beauty I was not concerned!"
"We both had to work hard to get along, and Betsy worked even harder. During the first week, after a lot of biting and scratching, I was sitting in her room feeling battered and bruised, nursing my sore hand and wondering where we were going to next, when she came up to me and with every fibre of her being looked up at me, locked her eyes meaningfully into mine, put out her paw and laid it on my hand, as if to say: "Don't be sad, I'm not really that bad!" This was a turning point."
Betsy's story has captivated and motivated the local Kew community. One local pet portrait artist Sandra Palme even donated a painting of Betsy which now hangs in the clinic as a permanent reminder.
For more on Betsy's story see
Her profile on United Cats: http://www.unitedcats.com/cat/helpbetsy
Her YouTube videos: http://www.youtube.com/user/kittentocatlondon
Sandra Palme's portrait: http://www.finepetportraits.co.uk/BetsyCat.html
About Kitten to Cat. Opened March 2008, Kitten to Cat is London's only cat only veterinary surgery. As well as a cat friendly veterinary surgery, Kitten to Cat, has boarding facilities equipped with web cams so owners can make a Skype video call anytime to check up on their loved ones. Kitten to Cat is based in Kew, Richmond in West London
www.kittentocat.com
###
Contact
Kitten to Cat - Cat Only Veterinary Clinic in Richmond, London
Simon Hade
02089400014
www.kittentocat.com
Number available during UK business hours. Outside those times please email time to call back.

Contact