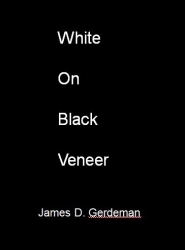 Coral Springs, FL, September 25, 2008 --(
PR.com
)-- Have blacks made progress or are only the leaders reaping the benefits? James Gerdeman tells the story of real life situations that shows what angry people can do. Using examples of his own life experiences he shows how people are accountable for their actions and how people form opinions based on observations they make. The difficulty of meeting Affirmative Action Goals threatened progress. This essay of real life experiences includes direct personal snippets, TV images, and actions of Middle America. The source includes direct personal contact, heroic actions of the middle class and greedy examples set by leaders. The publication of White on Black Veneer is in conjunction with Lulu, the fastest-growing provider of print-on-demand books.
White on Black Veneer is an autobiographical and historical account of real life drama found in a society that is changing. One measure of progress is the actual accomplishments of those in the trenches. Young heroes had to forge the trail. They had to become engineers, scientists, doctors, factory workers, nurses, bus drivers and others. The world is observing the actions of them all. More people are now seen in positions of power and this year we reached the milestone of a black as a presidential candidate. Have great strides been made in the trenches?
James Gerdeman wrote White on Black Veneer as a project based on his experiences found in industry as a systems engineer. The life we live has provided many opportunities for material for this project.
Jim came to Lulu because he found there was a well thought out online support for what he wanted to accomplish. White on Black Veneer is available for purchase at www.lulu.com/jdgerdeman.
Link to Publication*:
www.JDGerdeman.com
About Author
James Gerdeman graduated with an Industrial Engineering degree from the University of Dayton. His book Jimmy, about boys growing up in the 50's, has entertained many. His first book, Radio Frequency Identification Application 2000, was first in the industry. Smoke Signals You Too Can Quit, and Jimmy's Favorite Christmas Stories are additional works that show his versatility. Other works are in process. More information can be found at www.JDGerdeman.com.
About Lulu
Founded in 2002, Lulu is the world's fastest-growing print-on-demand marketplace for digital do-it-yourselfers. Please see www.lulu.com for more information.
###
Media Contact: James Gerdeman, jdgerdeman@aol.com, 786-256-8902.