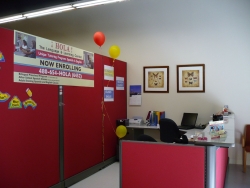 Mesa, AZ, October 06, 2008 --(
PR.com
)-- ¡Hola! ®
www.hola-language.com/Preschool.html
¡Hola! Language & Learning Center now offers drop-in services.
The ¡Hola's!® Language and Learning Center is now offering drop-in child care services by the hour for age's two to seven. This service is now available Monday thru Friday from 8:00 am to 6:00 pm with a minimum of two hours required.
¡Hola's!® drop-in program provides parents with top-rate, dependable childcare on a spur-of-the-moment basis. Whether you need to go to an appointment, get your hair done, watch a movie, go out for lunch, run some errands, or just need a back up to your regular childcare, ¡Hola!® is available to meet your childcare needs, offering first-rate fun for your little one.
"¡Hola's!® Play 'N Learn Program is ideal for children needing consistent regular care," states owner, Inge McKeever. She also believes that ¡Hola!® is a unique facility. With the combination of age appropriate supplies, materials, toys and equipment, ¡Hola!® provides a safe, challenging and fun world for your son or daughter. Children are encouraged to master new social and intellectual skills through play and center-based activities. In fact, it has been affirmed that children learn most readily through a play-oriented atmosphere. ¡Hola!® is a great place for child development.
Here, children have the freedom to play with anyone they wish and choose any toy they like. ¡Hola!® encourages experimenting with paints, play dough and crafts, having fun with board games, reading books, pretending and computer software. And with G-rated videos, building blocks and more all under the guidance and support of teachers who are fun, patient and caring, your child is bound to flourish. ¡Hola's!® dedicated staff and child-oriented atmosphere are what make this language and learning center so popular with children and parents alike.
As a note to parents, ¡Hola!® does maintain a Well Child Policy: Children with obvious signs of illness, other than a clear runny nose, will not be admitted.
¡Hola!® is located in the Factory Stores of America building, 2055 S. Power Rd. Suite 1104, on the southeast corner of Power & Baseline.
Visitors are welcome and encouraged to tour the learning center.
For more information, call Inge McKeever at (480) 329-6183 or on the Web at www.hola-language.com.
###