Hit Hard by the Economic Downturn, Charities Look to Innovative Fundraising Models to Keep Their Doors Open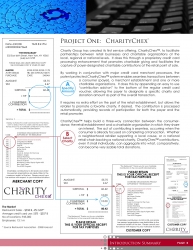 New York, NY, October 02, 2008 --(
PR.com
)-- Recently, many of us woke up to learn that the U.S. government had seized Washington Mutual, a bank over a century old. Having the distinction of being the largest bank failure in US history, this comes days after other indications of an imploding economy became 24-hour news topics.
The list of jobs lost in the financial sector continues to rise, adding to the rising unemployment rate across the country. We face an election year with a nation more divided than ever, and of course there is always the awareness that our country is facing its fifth year at war in two countries.
Just last week, Miriam Kreinin Souccar reported in Crain's New York Business that the big money on which the charity sector depends is drying up.
From big businesses on down to the individual giver, the proverbial belts are tightening, and it is a sad and disturbing fact that often the first areas of spending to be curtailed are in the areas that hurt those most in need. With the economic volatility across the nation and around the world, the loss of funding from charitable giving is a subject of virtually every conversation of those in the not for profit sector.
Anne-Marie Principe is the Executive Director of Books for Kids Foundation, a 22-year-old charity that promotes literacy by donating books, creating children's libraries in underserved locations, and participating in reading initiatives with community based organizations.
Principe states that the organization is established enough to have "weathered some storms," but even she is concerned in light of the recent sharp downturn in the financial sector: "When I created the budget this past June, I did so keeping in mind [the economy] wasn't strong, but of course not knowing it would become as weak as it has today."
Her sentiment is echoed by Brent Ridge, formerly of Martha Stewart Living Omnimedia, and founder of the Martha Stewart Center for Living at Mt. Sinai hospital. "It is certainly a very treacherous time in the not for profit sector," states Ridge. "There is simply not the same amount of money to freely pass along, and people are going to have to make tough decisions about what charity they feel most passionate about."
Ridge also notes another demand on the finances of both corporate and individual givers: the 2008 elections. "This is a very contentious election year, and many people are donating what they can to their favored candidates, which takes away from the amount of money available for charity."
"Certainly the people working in development are going to have to prove their mettle in the coming year," concludes Ridge.
Jonathan Bing, a State Assemblyman representing the 73rd District, encompassing a large part of Manhattan's east side, is quick to agree. "The economic situation is certainly going to have an impact," he commented in a recent interview. "It makes a difference both generally and specifically.
"Generally, there is less income in New York because of what has happened in the financial services, with businesses shrinking in revenue or going out of business altogether; this certainly has a negative impact on the income to the city and the state, which could affect funding for various programs.
"Specifically, many of the large businesses who have simply ceased to exist, such as Bear Stearns and Lehman Brothers, were very involved in charitable work and contributions."
In late September, according the CNBC, jobless claims rose to the highest level in seven years. With the total coming in 20,000 higher than forecasted by Wall Street economists, separate reports point to signs of a further weakening economy.
Assemblyman Bing also notes that even those individuals not specifically affected by recent events are sharply curtailing their charitable giving. "People are watching the stock market, and worrying that they might not have enough for retirement," he states.
Similarly, businesses are preparing to hold more capital to cover payroll and other operating expenses in the light of decreasing access to credit. "Short term, we have certainly seen a drop in contributions already," says Bing. "As far as the long term, we have not really even begun to measure the effects."
Certainly many fundraisers are "proving their mettle" as Brent Ridge stated. For example, Books for Kids is taking advantage of partnerships and other initiatives to maintain its operating budget.
"Partnerships are very helpful to us, we are finding," states Anne-Marie Principe. "For example, Time, Inc, sponsors an employee project called Time to Give Back. The Books for Kids Foundation was chosen to be one of five charities on the list. For any employee donation to one or more of the charities, the corporation matches it 2-to1.
"We also have partnered with various schools and libraries for Read-a-Thons, and Radio Disney has helped us to reach a larger audience by producing a piece on our programs. They recognize that many children across the country are going to be hurt by the decrease in charitable giving."
The large gifts just aren't coming in as regularly or in as large amounts as they have in the past – if they are even coming in at all. "Normally, if you host a fundraising gala attended by representatives from large [financial] corporations, it's easy to raise $2 million at the event," continues Principe. "We have to work harder, be more creative.
"Rather than approach one company for $100,000, we go to ten companies to ask for $10,000 from each…or to 50 companies for $2,000 each. By going 'grassroots' we have found different ways to approach donors."
A fundraiser who certainly has taken advantage of grassroots fundraising is Presidential candidate Barack Obama, who has a fully developed model that didn't make him dependent on the traditional high-dollar donors. Instead of seeking large donations from a few, he solicited small contributions from millions of "middle incomers" and, as a result, has been able to out-raise his opponents still dependent on the larger donations.
In the same manner, fundraising entities are going to have to look to new and innovative ways to bring in funds vital to the operations of the charities, to allow them to continue to help those most in need.
Charity Group LLC has recently launched CharityChex, a platform for allowing anyone to easily donate to a favorite charity. Founder and Chairman of the Board Scott Talbot feels strongly that this will change the fundraising model across the globe:
"The principle is incredibly simple. When you get the check at a retail outlet (grocery store, restaurant, bar), beneath the subtotal is a dotted line inviting you to 'add a charitable contribution.' As a consumer, you choose a charity from a list of those your restaurant or retailer supports. You check the box next to that charity, add a percent of your sale to the subtotal, and sign. Your donation is immediately transferred to charity."
According to Talbot, Barack Obama was able to enlist not only millions of small donors; the same people became new supporters as well, engaged in what he is doing and with a financial tie to his success.
"The same could be true of those contributing through CharityChex," asserts Talbot. "Giving a small amount each time you have a meal in a restaurant - tipping your favorite charity as you tip your favorite waiter or bar tender - ingrains giving in the culture of consumption."
CharityChex installs new (or reprograms existing) point-of-sale machines into an interested establishment free of charge. At a restaurant, for example regular diners become regular donors, with their loyalty growing with the knowledge that by visiting a restaurant they enjoy, they are also able to donate to a favored charity.
The opposite is true as well. States Talbot: "Charities and businesses promote each other. If we love to shop, why not feel doubly good by giving something back in the process?"
Donating to a cause gives many people a feeling of empowerment, and with the ease of "add-on" donations, more people than ever before can easily give back – no donation is too small. The same is true for many businesses that, though they have to cut back on large donations, still want to be part of the common good. With CharityChex, it would be very easy to authorize a set amount that each employee is allowed to add on a bill paid with a corporate credit card, for example…making the traditional "power lunch" much more powerful.
It is common understanding that, particularly on Wall Street, Christmas bonuses are likely to be greatly reduced, or cut completely. CharityChex was originally conceived as a way to supplement big donations, but the developers of the project are now hoping to literally alleviate the painful shortfalls that charities will experience at one of their biggest fundraising seasons of the in the year.
"Rather than leaving societal needs to the government or business sectors, the Charity Group, LLC has identified solutions to solve the problems facing non-profits by changing the system, spreading the solution, and persuading entire societies to take new leaps," says Steve Bernstein, a former Managing Director of Citigroup Corporate & Investment Bank.
With its model of completely bypassing the traditional large corporate fundraising models and connecting directly with regular people, CharityChex is capitalizing on the new social phenomenon raising millions from lower dollar amounts donated by the masses.
In these troubled times, regular citizens are going to have to step up to keep our vital charitable organizations afloat. Organizations such as CharityChex can provide the conduits that help them do just that.
By Julien Sharp
Julien Sharp is a journalist, specializing in business and lifestyle articles, whose work has appeared in national and international publications. She is based in New York City, and is the founder of Stylo Creative Communications.
###
Contact
Charity Group, LLC
Scott Talbot
646-641-5739

Contact