CreditMoneyMachine.com Announces That Now It is Distributed by Credit Software, LLC
Credit Software LLC, announces that they have been granted worldwide exclusive distribution rights of www.creditmoneymachine.com, the leading credit repair software. Credit Software LLC is proud to inform its clientele that many requested features have been added like: Dispute Center, Debt Settlement, Loan Modification, Invoicing, Accounts Receivables, Accounts Payables, Check Writing, Draft Writing, Bank Reconciliation, Charge of Credit Cards, Telemarketing , E-mail System and Advertising Cente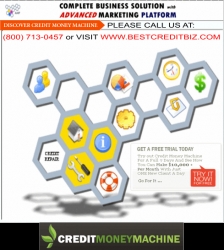 Ft. Lauderdale, FL, October 03, 2008 --(
PR.com
)-- Credit Software LLC, announces that they have been granted worldwide exclusive distribution rights of
www.creditmoneymachine.com
Credit Money Machine Net is the standard in credit repair software and only professional solution in the market. It targets credit repair companies, mortgage brokers, real estate agents, car dealers and home business owners.
Coinciding with this agreement is the launching of the newest version of Credit Money Machine that comprises a complete credit repair business solution with CRM and advanced marketing platform with more features than ever.
Credit Software LLC is proud to inform its clientele that many requested features has been added like: Dispute Center, Debt Settlement, Loan Modification, Invoicing, Accounts Receivables, Accounts Payables, Check Writing, Draft Writing, Bank Reconciliation, Charge of Credit Cards, Integrated Telemarketing System, Integrated E-mail System and Advertising Center.
Credit Software LLC intends to concentrate its marketing efforts to credit repair companies. "Its developers will implement many exciting features in the next few months" said its senior developer Lorenzo Rodriguez.
For More Information please call Mr. Lorenzo Rodriguez at (954) 568-1753, lorenzo@123what.com or go to www.creditmoneymachine.com
###
Contact
Credit Software LLC.
Lorenzo Rodriguez
800-713-0457
www.creditmoneymachine.com

Contact