Christmas Memories Will Warm Hearts This Holiday Season in English and Spanish
Groundbreaking feature film and TV special utilizes vintage home movies to help families remember the joy of Christmas past. This year the project gets a Latin twist as it will be available in Spanish.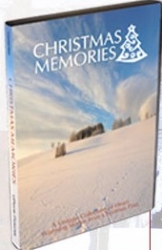 Wake Forest, NC, October 05, 2008 --(
PR.com
)-- This winter, memories of Christmas Past will come alive again, thanks to the upcoming Uptone Pictures feature film, Christmas Memories - available on DVD November 20th from PureFlix Entertainment. Take a stroll down memory lane with this collection of heart-warming stories of days gone by. The groundbreaking film is an assortment of vintage 8mm and 16mm home movies uniquely woven together to tell humorous and heartwarming stories that just might remind you of your favorite Christmas memory. 

To coincide with the DVD release, a 30-minute television special, also titled Christmas Memories, will air during the holidays (check local listings). Showcasing a few stories from the collection, the special will air in over 100 markets on the CW Network, as well as national airings on a variety of television networks including CW, INSP, iLife-TV, NRB Network, Faith TV, INI, CTS (Canada), The Miracle Channel, Sky Angel and dozens of independent stations and network affiliates. 

Producer/Director Michael Davis came up with the idea for Christmas Memories on a cold, fall afternoon, while watching old family movies on an old projector on his father-in-law's big screen. "I grew up watching old home movies and silent films being projected on a sheet in the living room as part of 'family movie night,'" remembers Davis. "So while watching a very large box full of 8mm films one afternoon, I began to imagine what other people did during the holidays. What sorts of traditions did those families have? What kind of things are we missing today in the hype and business of the season?"

Davis slowly began to collect vintage film at estate sales, and before long, found himself with hundreds of hours of raw footage - actual home movies, long forgotten and abandoned. The footage was transfered to DVD for viewing purposes, and Davis and script writer Denise Patton watched volumes of material and slowly began to create new stories for the very real footage that became part of the movie. 

"This film literally transports people back to a time and place - a moment which has been saved in their minds for years," says Davis. "When they see these images, they are immediately back in the kitchen at Grandma's house eating cookies on the kitchen stool. Or they are back putting ornaments on the tree as a blizzard roars outside. The coolest thing that I have seen over and over as we have screened the film to various focus groups is that people pull from the film things that are unique to them, while someone sitting next to them in the same viewing pick something completely different from the same exact footage." 

Christmas Memories was edited entirely in Brazil, as Davis was in the process of adopting his daughter Isabella. Veteran music producer Brian Hardin serves as Music Director for the film, and Whiplash Records recording artist Jill Parr sings the title track, and lends her voice as a narrator as well. Also narrating portions of the film is Bryan Duncan, one of the most beloved voices in Christian music, and now the lead singer of Bryan Duncan and the Nehosoul Band.

"My hope is that Christmas Memories will become a tradition for families today," adds Davis. "It's a chance to look at the past, to remember the good times, the blessings, the traditions, and ultimately conjure up the memories that bring families closer together."
###


www.christmasmemories-themovie.com
Media Contact: Brian Mayes * (615) 417-8149 * brian@nashvillepublicity.com
Contact
Uptone Pictures Inc.
Michael Davis
9196493587
www.uptonepictures.com

Contact