Palm Springs Clothing Optional Resort Owner's Top Ten Nude Sunbathing Beauty Secrets
In these stressful times, couples are looking for new and fun ways to put a romantic kick back into their love lives during vacations. Staying at nudist resorts is the best way to spark the romance and to remind yourselves as to why you initially fell in love with each other.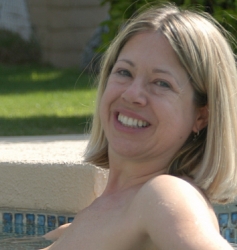 Palm Springs, CA, October 07, 2008 --(
PR.com
)-- Vacationing at clothing optional resorts is the fastest growing trend in the travel industry. No longer the rustic nudist colonies of old. Today's American nudist resorts rival some of the best boutique hotels around in terms of amenities, customer service, and value for your vacation dollar.
One popular topless and nude sunbathing hotel is The Terra Cotta Inn clothing optional resort and spa
http://sunnyfun.com
located in Palm Springs, California, the sunniest city in the United States. Called the most mainstream nudist resort in America, they are perfect for couples trying topless or nude sunbathing for the first time.
With one of the highest repeat guest rates in the travel industry at over 75%, loyal guests from around the world flock to this popular desert nudist resort.
And the press loves them too. In July, Tripadvisor.com picked them as one of the 10 best clothing optional resorts in the world. Only two nudist resorts in America were honored. Last year AOL.com reported they were one of the 10 best.
Mary Clare Mulhall owner of Terra Cotta Inn along with her husband Tom, realizes that many women are nervous about their first clothes free experience. She says, "Women tend to be judged more on their looks than men in our society. When they come to our resort, they see that almost no one looks like a model. They look just like everyone else and this makes for a joyful, fun first nude sunbathing experience."
Many women still enjoy a glamorous feeling while on vacation, even while sunbathing naked, so Mary Clare decided to share her top 10 beauty secrets with first time clothing optional vacationers.
10) If you worry about existing tan lines - use a self tanner to blend color into your tanned skin.
9) If you use Retin- A, wear a floppy hat while in the sun.
8) Don't wear heavy foundation or make up by the pool. Try a tinted moisturizer with at least a SPF 15 for a flattering glow.
7) Bikini wax at least one week in advance, so your newly exposed skin is not irritated by the sun.
6) Stay at a resort like ours with a salt water pool and whirlpool tub. This way your skin won't dry out and you don't have to worry about your lightened or highlighted hair turning green from chlorine.
5) Apply at least an SPF 15 sunscreen multiple times during the day. That includes on the sides and underside of your breasts, underarms, etc. You don't want to ruin your romantic vacation with a sunburn.
4) No need to diet before going. You don't have to worry how you look in a bikini or swimsuit, since your not wearing one.
3) Get a mani/pedi before going. Ask for a topcoat with UV filters to keep the color bright.
2) Fashionistas who still need their fashion moment in the sun, can wear slinky cover ups to match their sandals and hats or visors. If you like bling, wear flirty ankle chains or toe rings. Jeweled hair clips can complete your birthday suit ensemble.
1) Finally, to make the best use of your romantic time together, leave the cell phone in the room. Remember, you can't hide a blackberry in your bikini if your not wearing one.
For more information about vacationing at The Terra Cotta Inn give them a call at 1-800-786-6938.
###
Contact
The Terra Cotta Inn Clothing Optional Resort and Spa
Tom Mulhall
1-800-786-6938
http://sunnyfun.com

Contact