Raymond Vineyards Celebrates 35th Harvest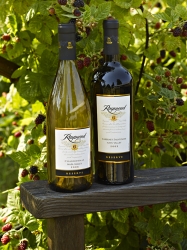 St. Helena, Napa Valley, CA, October 07, 2008 --(
PR.com
)-- The 35th harvest at Raymond Vineyards is going strong in Napa Valley. Founded in 1971 by father and sons team Roy Sr., Roy Jr. and Walter Raymond, the first Raymond harvest took place in 1974. "We didn't have a lot of equipment, the crush area was just a barn really, but it was an exciting time for our family," says Walter Raymond, winemaker since the winery's inception and now President since the retirement of his older brother, Roy Jr., in 2006. "We planted the vineyards and built the winery ourselves. We really built the business as a family."
Some of the first varietals planted at the Rutherford estate property were Napa Gamay, Chenin Blanc, Johannisberg Riesling, Pinot Noir and Zinfandel along with Merlot, Chardonnay and Cabernet Sauvignon. Over time, it became evident to Walter that Cabernet Sauvignon, Merlot and Chardonnay were the more dominant varietals for that area of the Napa Valley. "We started replanting areas of the property in the 1980's. Certain grape varieties didn't seem to flourish this far north in the valley and consumer tastes were changing too," reflects Walter. "Bordeaux varietals, especially Cabernet Sauvignon, thrive in this area."
"I always remember the early harvests as a time for our family to be at the winery together," says Krisi Raymond, the winery's Director of Strategic Planning. "My sister and I were pretty young, so we spent more time in the pool at my grandparent's house than anything else. We did try to earn a little money by selling Kool-Aid. We would set-up our drink stand at the south end of the pool so that everyone could buy a glass when they stopped for a snack or to take a phone call. It was successful for a few vintages."
"Now, harvest is a great chance to really reconnect with the joy of the wine business, the soil and the fruit. It is always exciting and the challenges are varied - it is a fun way to share experiences with family and to connect with the people at Raymond that make things happen everyday. I spend quite a bit of time at my desk these days, and harvest is a great excuse to get out of the office and get dirty. The nice thing is that those experiences make me better at the rest of my job - as I am able to share all of that fascinating information with the staff in the tasting room and wine club, and with those that I meet on the road," reflects Krisi.
The winery began celebrating the 2008 harvest earlier this year. They first offered a "Harvest Boot Camp" weekend for four people during the Narsai Toast fundraiser to benefit Berkeley Repertory Theatre in April, followed by a thirty-five year Cabernet Sauvignon retrospective e-auction lot (including the unreleased 2006-2008 vintages) during Auction Napa Valley in June. The winery also hosted a Harvest Celebration party in early September to coincide with the release of their first Oakville appellation Cabernet Sauvignon and a new Small Lot Red Wine blend, available exclusively at the winery.
In celebration of this 35th harvest, all Raymond employees are also participating in a harvest boot camp. "We want everyone to get their hands dirty this year," says Krisi. "It's not only educational for our employees to learn more about the winemaking process, it's a way to bond as a team. We are having a lot of fun with the newbie workers. We are making them do everything, from berry sampling in the vineyards and yeasting tanks, to helping in the lab and working on the grape sorting table."
This milestone harvest has been an interesting one at Raymond. Consistently warm weather in the latter part of August and early September, coupled with zero overnight fog, had the Raymond team scrambling, initially. Harvest officially began at the winery on August 25th and seemed to be non-stop activity until the cooling fog and lower temperatures prevailed on September 8th. Harvest activity has slowed since and Walter feels the winery's estate Cabernet Sauvignon vineyards will be picked in mid October, with harvest concluding in late October. "It seems to be a very balanced vintage with great flavors and intensity," states Walter. "A new vintage is always exciting."
About Raymond Vineyards
Raymond Vineyards was founded in 1971 by Roy Sr., Roy Jr. and Walter Raymond. The Raymond family's roots in the Napa Valley date back to 1876, when Jacob and Frederick Beringer founded Beringer Brothers Winery. Five generations later, Craig and Krisi Raymond have joined the family business to continue the family's winemaking legacy at Raymond Vineyards.
Raymond produces Napa Valley Cabernet Sauvignon, Chardonnay, Merlot and Sauvignon Blanc as well as limited production Cabernet Sauvignons from the Rutherford, St. Helena and Oakville appellations and Generations Napa Valley Cabernet Sauvignon. A limited production Small Lot series of wines were introduced in 2008 and available exclusively to the winery's club members and tasting room guests.
Raymond Vineyards
849 Zinfandel Lane
St. Helena, CA 94574
800-525-2659
www.raymondvineyards.com
###
Contact
Raymond Vineyards
Mitzi Inglis
800-525-2659
www.raymondvineyards.com

Contact