Mobile Awareness, LLC Releases VisionStat™ Portable Wireless Color Camera System for Hitching Alignment & Temporary Use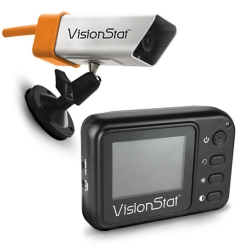 Cleveland, OH, October 08, 2008 --(
PR.com
)-- Mobile Awareness, LLC, a provider of leading-edge transportation safety products, today announced VisionStat™ Portable, a new transportable wireless camera system. VisionStat™ Portable provides a safe and convenient solution for all types of towing applications, visual security, temporary use for backing and observation of valuable cargo.
The VisionStat™ Portable camera system is cost-effective, easily installed, and allows the driver to back-up and align a towing vehicle using the removable, handheld monitor with a 2.4" LCD screen. The Night Vision enabled camera has a magnetic base to allow for flexible mounting which can be adapted for visual security purposes. Both the handheld monitor and the camera can be charged using either the vehicle power adapter or the plug-in AC adapter (both included) and can be conveniently stored after use.
"Mobile Awareness recognizes that vehicle owners and businesses want flexible, effective and affordable camera systems that improve their vehicle safety environments," says Brandon Stotsenburg, Director of Sales & Marketing at Mobile Awareness. "Our VisionStat™ Portable color video system provides a transportable camera at a price which will allow RV and utility truck customers to safely back their vehicles, align them for hitching and monitor valuable cargo during transportation."
Additional features include the ability to switch camera views, to reverse the image when aligning a hitch, as well as adjust contrast and brightness on the portable monitor. Wireless camera transmission capability is up to 300 feet with night vision range of approximately 15 feet.
Stotsenburg concludes, "VisionStat™ Portable has a one-year warranty and provides a truly affordable and flexible color camera system for our customers who need a temporary system, but still want many of the safety benefits that they've come to expect from Mobile Awareness."
About Mobile Awareness
Cleveland, Ohio based Mobile Awareness, LLC™ designs and markets leading-edge, affordable transportation safety products. The company provides integrated accident prevention solutions for commercial transportation professionals with its VisionStat™ Wired & Wireless Vehicle Camera Systems, TireStat™ Tire Pressure Monitoring Systems (TPMS) and SenseStat™ Wired & Wireless Obstacle Detection Sensor Systems. For more information, please contact Mobile Awareness, Toll Free: 866-653-5036 or visit www.MobileAwareness.com
Mobile Awareness…Reducing the Total Cost of Safety™
###
Contact
Mobile Awareness, LLC
Joan Cochran
866-653-5036
www.mobileawareness.com

Contact