British Author Becomes Finalist in USA Book Awards 2008 Self Help Category
A book that may change your life.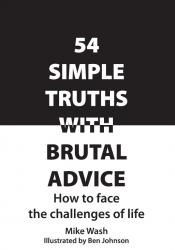 Orlando, FL, October 22, 2008 --(
PR.com
)-- 54 Simple Truths with Brutal Advice by Mike Wash
Review
Even if not a fan of self-help books, any reader will find 54 Simple Truths with Brutal Advice at least enjoyable. This also because probably "self-help" genre is not properly the right category to place this book in. Self-examination is not what this book is about. If anything, this book is a re-cap or a gentle reminder of what you already know – but forgot.
There are 54 chapters, 54 situations/feelings/scenarios/dilemmas depicted, ones that you are sure enough to encounter, from drug addictions to the green-eyed monster that exists in us all. Mike Wash's book embraces them all in an easy, no-nonsense approach.
What the book really suggests to us, is how much freedom and say we do have in the way we conduct ourselves. It helps us to keep in mind how much every single event happening in our life is partially moved by our choices and behaviour. This sense of self-awareness and personal responsibility does accompany the reader through the whole book, almost like a mantra.
Some illustrations give the book an even more easy-going appeal. They melt with the words and enrich the message in a very informal and communicative way. Sometimes they are sketches, some others are merged on a picture, but they are never invasive. They help the reader catch the whole spirit of the work.
54 Simple Truths with Brutal Advice is a book for those who may not like the idea of owning a self–help book. It's a combination of light philosophy and common sense, opening up your eyes like having a refreshing eyewash. This book is a giver of tough love, a teller of home truths but above all a portable friend.
###
Contact
MWA (UK) Ltd
Mike Wash
+44 1904 499222
www.mwauk.com

Contact
Multimedia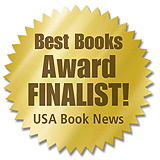 Out of thousands of entries the British author Mike Wash was shortlisted for best book in the self help category.