Bio Energy Plantations CEO Wins "Spirit of Enterprise" Award
Bio Energy plantations has won Singapore's prestigious "Spirit of Enterprise" award.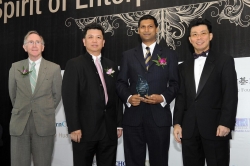 Singapore, Singapore, October 26, 2008 --(
PR.com
)-- Nareen Raju, CEO of Bio Energy plantations has won Singapore' prestigious "Spirit of Enterprise" award.
The announcement recognises Nareen Raju's promotion of sustainable energy through the development of jatropha plantations in India, Indonesia and Cambodia.
"Winning this award is the culmination of many years of hard work, starting with a vision of a world with clean, sustainable fuel that I had as a small child," said Raju having received the award from Mr Lee Yi Shyan, Singapore's Minster of State for Trade and Industry.
About Jatropha
Jatropha oil will become the crop of choice for the Biofuel industry as it does not compete with food supply, unlike edible oils such as palm and soy — essential in the times of high food prices. It is fuel for the 21st century.
About Bio Energy Plantations
Bio Energy Plantations is the first Singaporean company to cultivate Jatropha in India. The company has an established 20 hectare pilot plantation with a nursery and R&D centre. It is uniquely positioned to become a major Jatropha oil production company. Bio Energy Plantations has developed a unique Jatropha cultivation methodology to scale and commercialize plantations management and oil production around the world. www.bioenergyplantations.com
About Spirit of Enterprise
Spirit of Enterprise (SOE), an Institute of Public Charter, promotes and advances entrepreneurial spirit in Singapore by honoring local self-reliant entrepreneurs operating small and medium-sized businesses, and serves to inspire Singaporeans, especially the young, to become entrepreneurs by facilitating interaction, communication and knowledge dissemination between students, the entrepreneurs and the general public. Its key programs include Spirit of Enterprise Awards, Student-Entrepreneur Program, and SOE Books on Entrepreneurship distributed free to local university and polytechnic business school courses.
SOE is funded by the private sector and its board of governors which consists of established entrepreneurs, corporate senior management, students, public service and political leaders. For more information, please visit www.soe.org.sg
About Spirit of Enterprise Awards
The Spirit of Enterprise Awards has been held every year since 2003 and the ceremony will be held on the 10th October 2008 at The Pan Pacific Hotel, Singapore. Guests will include figures from industry, academia and the Minister of State for Trade and Industry Lee Yi Shyan will give a presentation to the entrepreneurs and students present.
###
Contact
Bio Energy Plantations Pte Ltd
Alex Knight
+6593367266
www.bioenergyplantations.com

Contact